Ed Harris, Andy Garcia, Jim Sturgess And Abbie Cornish Joining The Bonkers-Sounding Geostorm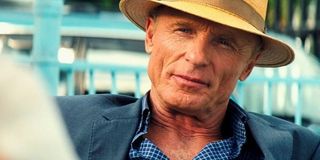 Are you ready for Geostorm? Hell, not even WE'RE ready for Geostorm, because we can't yet convey in text the echo effect the title has when it escapes our mouths. Geostorm, the wildest, wackiest, most delightful space saga you've ever heard, is headed to theaters. And now they've added a pretty crackerjack collection of names to the cast.
The Hollywood Reporter reveals that Warner Bros. are in talks with Jim Sturgess, Abbie Cornish, Ed Harris and Andy Garcia to get wrapped up in the Geostorm. The thriller, directed by Dean Devlin of Independence Day fame (as a producer), is already set to star Gerard Butler as a space satellite designer, with Sturgess set to play his estranged brother. Sturgess has a wife, Cornish, who is employed on the Secret Service protecting a President played by Andy Garcia (Hispanic President, woohoo!). Harris will be the Secretary of State. And how do these seemingly unrelated people get involved in the same story?
Butler must team with Sturgess to manage a rogue climate-control satellite that threatens to create a disaster of epic proportions. But soon they learn this is no technological fluke, but in fact an attempt at killing the President. Climate control satellites employed to kill the President?? These people are SICK! Five bucks says Ed Harris is involved. Did you SEE Snowpiercer? Dude plays for keeps. (Seriously, you should have seen Snowpiercer)
Geostorm seemed like an uncertainty awhile ago, as Warner Bros. had originally selected March 26, 2016 as the release date for the film. As you recall, the studio soon relinquished that date for a couple of dudes in tights, but this casting suggests Geostorm is still on-target for 2016 (possibly summer, if you cross your fingers, kiss your Mom and eat your Wheaties). Presumably, the busy Butler is headed into the Geostorm after he finishes work on London Has Fallen, where he'll get back into the shoes of Agent Mike Banning, Professional Badass. The script was by Devlin, though it recently got a facelift thanks to Kieran and Michele Mulroney, in-house Warner Bros. writers who previously penned the infamous unmade Justice League movie from 2008.
The first thought when hearing this delightful premise is, how do you do a Presidential assassination plot and a space travel movie? This is basically like Gravity meets Olympus Has Fallen. Will Cornish get to be an action hero on the ground while Gerard Butler and Jim Sturgess (aka Lil' Butler) protect the galaxy? Will Ed Harris make threatening orders from behind a desk? Why can't minority Presidents in movies ever have an easygoing administration? These questions and more will be answered by Geostorm, a title so pure it should be shouted from the clouds by Zeus himself.
Your Daily Blend of Entertainment News
Thank you for signing up to CinemaBlend. You will receive a verification email shortly.
There was a problem. Please refresh the page and try again.