Ed Helms Out Of Daddy's Home, Planning Civil War Comedy With Steve Carell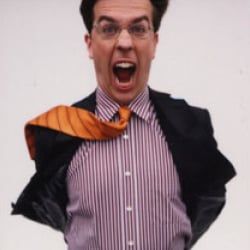 Today The Los Angeles Times is posing the question, "Is Ed Helms the new Steve Carell?" It's a question any fans of The Office have been able to answer for years, as Helms has long been the funniest part of the show and the heir apparent to Michael Scott as dunderhead in chief.
It's also been evident for a while that Helms's movie career was headed toward a Carell-like pace; ever since The Hangover, Helms has been attached to all kinds of comedy projects, from the spy comedy Central Intelligence (not so coincidentally resembling Carell's own Get Smart) to the inevitable The Hangover 2. The LA Times updates us on a few of those projects, noting that Helms likely won't be able to star alongside Will Ferrell in Daddy's Home, and also had to bail on Your Cheating Heart, an infidelity comedy that Ron Howard is directing with Vince Vaughn in the lead.
Take heart, though. Helms and Carell are teaming up to make an untitled project about Civil War re-enactors who are transported back to the event itself. The project is still in development, but with Carell producing and Helms credited as one of the screenwriters, it likely won't go forward without both of them. Given that neither can film movies except during The Office hiatuses, it'll be a while before we can likely see it go forward. But once The Office goes off the air, we'll at least have the Andy Bernard and Michael Scott Civil War movie to look forward to.
Your Daily Blend of Entertainment News
Staff Writer at CinemaBlend