Eli Roth To Helm The Green Inferno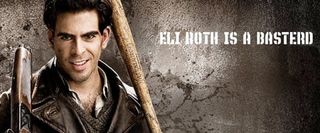 Eli Roth blazed into horror glory in 2005 with his torture porn thriller Hostel. With it relentless nihilism and unrepentant carnage, the movie added fuel to the flames of the gorno trend sparked by Saw, and its success pulled him into the coveted circle of Quentin Tarantino, who was an admitted fan of Roth's first film the skin-crawling shocker Cabin Fever. Since then, Roth has become a powerful producer, sought after screenwriter, and recurring collaborator of Tarantino's, scoring notable roles in Death Proof and Inglourious Basterds. All this has left little time for the horror auteur to helm his own projects, but now Roth is finally slated to direct a new feature, Worldview Entertainment's The Green Inferno.
The Green Inferno will be the first movie Roth has helmed since 2007's Hostel: Part II, and horror fans are sure to cheer his return to the director's chair. Unfortunately, Worldview won't even reveal the logline behind the curious title at this time, but with the story being born from Roth's twisted imagination, there's bound to be plenty of gore in store.
Roth co-wrote the screenplay for The Green Inferno with Guillermo Amoedo, who found inspiration for the film while shooting Aftershock in Chile. This disaster-centered picture, which stars Roth as one of six friends fighting to survive a world-shattering earthquake, marked he and Amoedo's first collaboration. Like this upcoming thriller, The Green Inferno will be shot in South America, specifically in Peru and Chile this autumn. Until then, Ross is in production on Hemlock Grove, a sci-fi infused horror series that will premiere on Netflix early next year.
Staff writer at CinemaBlend.
Your Daily Blend of Entertainment News
Thank you for signing up to CinemaBlend. You will receive a verification email shortly.
There was a problem. Please refresh the page and try again.