Elysium Scrambles To The Top Of Crowded Friday Box Office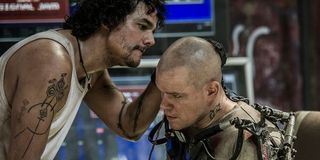 A lot of very different movies are jostling for attention at the box office this weekend, but so far it's the most typical summer blockbuster that's coming out on top. Elysium, the sci-fi film starring Matt Damon and directed by District 9's Neill Blomkamp, was the highest earner on Friday, making $11.2 million on its opening day, according to The Hollywood Reporter. That puts it on track for an estimated $30 million weekend, a fair bit behind District 9, the low-budget sensation that opened to $37 million in 2009, despite featuring no star remotely on the level of Matt Damon.
Still, it's a more solid debut than more expensive summer efforts like White House Down and The Lone Ranger can claim, so don't go writing Neill Blomkamp's obit just yet. The biggest weekend competition came from comedy We're The Millers, coming in at #2 with $8.5 million on Friday, and a weekend total of $25 million (since it opened on Wednesday it will fudge its way to a $37 million opening, but come on, we can all see straight through that). Millers narrowly managed to beat the uber-family-friendly Planes, which made $8.1 million on Friday and will come in around a $23 million debut. Observers reportedly thought it could hit as much as $30 million, in line with this year's modest animated success Epic, but given that Planes was originally intended as a direct-to-DVD release, Disney can safely assume it will make plenty of money in that field anyway.
Finally there's Percy Jackson: Sea of Monsters, the kid-friendly animated sequel that's well behind its predecessor, making $4.9 million on Friday on its way to a $24 million five-day weekend (yes, it's another Wednesday opener). The first film, Percy Jackson: The Lightning Thief, opened over President's Day in 2010 and made $38.7 in that first weekend. That probably spells the end of this unlikely post-Harry Potter franchise.
We'll have the full box office results to you on Sunday. In the meantime, check out the trailers for all four of this weekend's big releases, and let us know what you're seeing in the comments.
Elysium:
We're The Millers:
Planes:
Percy Jackson: Sea of Monsters:
Staff Writer at CinemaBlend