Weekend Box Office: Elysium Soars Over The Millers, Planes and Percy Jackson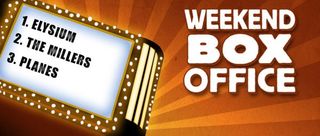 There was a lot of new movies demanding attention this weekend, and the love from audiences was spread pretty thin.
Number one went to Elysium, banking just $30 million. That's a let down for director Neill Blomkamp whose last rated R sci-fi film (and his first every feature film as well), District 9 managed a $37 million opening in 2009, and that was without big names like Damon and Foster on the billing.
Raunch-com We're The Millers took second place with $26 million, bringing its total since opening earlier this week to $38 million, putting it solidly in the black compared with its $37 million production budget.
Disney Animation Studio's first attempt at making a Pixar spin-off fell flat. Planes, a limp and poorly received effort by Disney to capitolize on its sister studio's Cars franchise, opened in 3rd place with just $22 million. The weak debut not only falls short by Pixar opening standards, it's a low ball for Disney as well, whose recent animated features like Wreck-It Ralph and Tangled opened nearer to $50 million.
The final new comer this weekend, sequel Percy Jackson: Sea of Monsters. had a debut that might well be the final nail in the franchise's coffin. After the first entry Percy Jackson & The Olympians: The Lightning Thief had a dubious run with just $226 million world-wide, doubts of a second were tossed around. Sea of Monsters had an opening of just $14 million, with only $33 million in world-wide sales to date against its $90 million budget. Not exactly a vote of olypmic proportions.
For the full weekend top ten, check out the chart below:
1.

Elysium *
$30,400,000
Total: $30,400,000
LW: N WR: 1
THTRS: 3,284
2.

We're the Millers *
$26,555,000
Total: $38,044,000
LW: N WR: 1
THTRS: 3,260
3.

Planes *
$22,525,000
Total: $22,525,000
LW: N WR: 1
THTRS: 3,702
4.

Percy Jackson: Sea of Monsters *
$14,600,000
Total: $23,457,000
LW: N WR: 1
THTRS: 3,031
5.

2 Guns
$11,128,000
Total: $48,517,000
LW: 1 WR: 2
THTRS: 3,028
6.

The Smurfs 2
$9,500,000
Total: $46,600,000
LW: 3 WR: 2
THTRS: 3,867
7.

The Wolverine
$8,000,000
Total: $111,986,000
LW: 2 WR: 3
THTRS: 2,867
8.

The Conjuring
$6,700,000
Total: $120,745,000
LW: 4 WR: 4
THTRS: 2,650
9.

Despicable Me 2
$5,748,000
Total: $338,314,000
LW: 5 WR: 6
THTRS: 2,395
10.

Grown Ups 2
$3,700,000
Total: $123,800,000
LW: 6 WR: 5
THTRS: 2,102
Your Daily Blend of Entertainment News
Thank you for signing up to CinemaBlend. You will receive a verification email shortly.
There was a problem. Please refresh the page and try again.