Emily Blunt, Rebecca Hall, Rooney Mara Final Contenders To Join Johnny Depp In Transcendence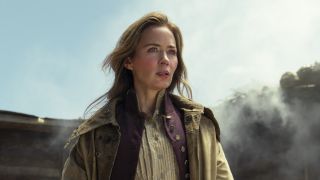 (Image credit: Prime Video)
There are many, many reasons to get excited about Transcendence, starting with the fact that it's the directorial debut of Christopher Nolan's longtime director of photography Wally Pfister, and he's already got Johnny Depp on board to star in a film with a very secret plot. Add that to recent rumors that that story has Johnny Depp's character turning into a supercomputer, and what more could you want? OK, fine-- how about one of the best young actresses working today joining the cast?
According to Deadline the battle to play the female lead in Transcendence is down to three names, and lucky for us, all three are good in pretty much anything they make. Emily Blunt, Rooney Mara and Rebecca Hall are reportedly the final contenders for the film, which starts production on March 4. According to recently revealed plot details the female lead character is named Evelyn, and she helps transfer the consciousness of Depp's lead character into a supercomputer after his death. Yes, it's about computers becoming self-aware. Yes, that could be genuinely terrifying.
The newly Golden Globe-nominated Blunt may not be available for the film thanks to All You Need Is Kill, but Mara and Hall are both more than worthy replacements who would be fascinating to see working opposite Depp. Essentially it's a can't-lose scenario, and I'm excited no matter who winds up getting the part.
Your Daily Blend of Entertainment News
Staff Writer at CinemaBlend