English Ingenue Tuppence Middleton Joins The Wachowskis' Jupiter Ascending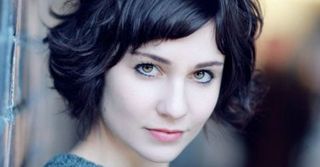 Forget Benedict Cumberbatch. Tuppence Middleton is our new favorite British name.
The English ingénue who made her screen debut in 2008 on the TV crime drama Bones has been snagging roles in UK features.These flicks—that include includes the horror comedy Tormented, the teen thriller Chatroom, and the Sean Bean vehicle Cleanskin—have gained little notice Stateside. But with her lasting casting coup, she's destined to draw international notice in short order.
Variety reports Middleton has signed on to Jupiter Ascending, Andy and Lana Wachowski's follow-up to their ambitious adaptation of Cloud Atlas. The 25-year-old actress who recently wrapped on a small role in Danny Boyle's upcoming Trance joins a cast that includes Channing Tatum, Mila Kunis, Eddie Redmayne, Douglas Booth and her former co-star Sean Bean.
Written, produced and directed by the Wachowski Siblings, Jupiter Ascending is a science fiction adventure set in a universe where humans are considered to be at the bottom of the evolutionary ladder. Kunis is set to star as a human maid whose life is in danger once she's deemed a threat to the Queen of the Universe. Tatum will be an extraterrestrial bounty hunter tasked with her demise, and Bean will play a "Han Solo-type." No details have emerged on whom Redmayne, Booth, and Middleton will play.
Later this year, Middleton is expected to hit theaters in the Emma Thompson/Pierce Brosnan comedy Love Punch as well as the adaptation of Nick Hornby's A Long Way Down, opposite Rosamund Pike, Aaron Paul and Toni Collette. However, with the international reputation of the Wachowskis, and Warner Bros. distributing, Jupiter Ascending could prove the tipping point for this lovely looking starlet.
Production on Jupiter Ascending will begin this spring. The film is expected to hit theaters in 2014.
Your Daily Blend of Entertainment News
Staff writer at CinemaBlend.