The Fault In Our Stars Bench Has Returned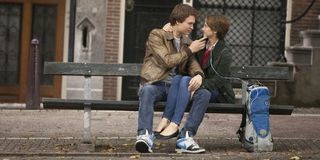 With its touching story of love and loss, the teen drama The Fault In Our Stars is sure to be a coming-of-age touchstone for a new generation of moviegoers. And now they will have a pilgrimage point as the recently lost bench from one of the movie's biggest Amsterdam moments has been returned.
EW tipped us to this good news for film fans, sharing a tweet from Amsterdam's Film Office.
The translation for the caption here is roughly: "The bench from the Fault in our stars is back!!"
Last week, the worn green bench pictured at the top of the page was reported missing. Speculation posited that perhaps an over-eager The Fault In Our Stars fan had snatched up the movie landmark for themselves. But the city of Amsterdam has since put those worries to rest, replacing the bench that proved a pivotal location for Gus (Ansel Elgort) and Hazel (Shailene Woodley).
Strangely, there's been no word on why this bench was removed to begin with. But Amsterdam film commissioner Simon Brester assures EW that the bench in question is the exact same one from the movie. So book your fan trip to Amsterdam accordingly.
The Fault In Our Stars is proving a major hit for 20th Century Fox. Costing a meager $12 million to make, the romantic drama based on the beloved YA novel by John Green has already earned a whopping $219 million worldwide ($115 mil is the U.S., $103 mil overseas)--and all that in just five weekends. The Amsterdam Film Office has already reported that numerous fans of the film adaptation have been to the bench's spot, even when it was AWOL. Now that it's returned, the city is likely expecting to see bigger and bigger crowds turning out to get close to this movie landmark.
The massive success of The Fault In Our Stars proves the YA genre is still a powerful force at the box office, drawing big audiences, many of whom are assumed to be young and female. And to that end MTV has made a recap attuned to this demographic: all emojii. Can you make out your favorite scene from The Fault In Our Stars within the tweet below?
I get contextually where one major Fault In Our Stars scene takes place in the above, but personally I think there is no emoji yet that properly conveys "kissing in Anne Frank's attic." Am I alone?
The Fault In Our Stars is now (tearing it up) in theaters.
Your Daily Blend of Entertainment News
Staff writer at CinemaBlend.
Your Daily Blend of Entertainment News
Thank you for signing up to CinemaBlend. You will receive a verification email shortly.
There was a problem. Please refresh the page and try again.