The Fear Monger: The Texas Chainsaw Prequel Has Landed This Awesome Director Pair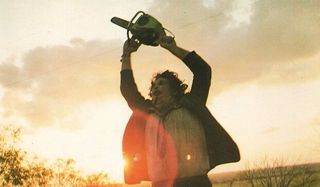 Good day, horror fans. Hopefully everyone had a safe and scary Halloween, and we're not going to judge anybody for keeping the celebrations going throughout the weekend. There are a ton of horrors in theaters and on VOD now, including the Saw re-release, the surprisingly coherent ABCs of Death 2, Alexandre Aja's demonic adaptation Horns, and the Nicole Kidman-starring thriller Before I Go to Sleep. If you can't find anything to spend some time with in that list, you could always bob for apples in the toilet for a frighteningly fun time.
In smaller news, Saw II director Darren Lynn Bousman is finally getting his long-gestating haunted house thriller Abbatoir made. Alexandre Aja's The 9th Life of Louis Drax has added actors Oliver Platt and Barbara Hershey, among others, and has started up principal photography. Finally, Friday the 13th Part III fans will be jazzed that FridayThe13thFranchise.com gained access to a slew of photo stills from the original ending of the film, which involved a funky-looking Jason decapitating the final girl survivor Chris - who gets taken away as a lunatic in the final version.
And now for the most awkward post-puberty adventure you'll ever see.
Texas Chainsaw Massacre Prequel Finds Its Directors
If you're going to tell a (sort of) new chapter in the story of cinema's most deranged madman, you'd better get someone as artistically deranged to make it. According to Bloody Disgusting, Millennium Films hired French filmmakers Julien Maury and Alexandre Bustillo to helm Leatherface, the studio's upcoming prequel to the Texas Chain Saw Massacre franchise. This flick will head all the way back to Leatherface's teenage years, when he was presumably killing animals and then making household products out of their carcasses.
Despite only having two films behind them, Maury and Bustillo should be well known to horror fans for their 2007 debut Inside (À l'intérieur), which mixed a dark story with some insanely gruesome effects work. Their second film, 2011's Livid, showed off the duo's directing and cinematography skills, though its haunted house ghost story wasn't extremely compelling. You can catch their amusingly disgusting short X is for Xylophone in ABCs of Death 2, and their most recent feature, the thriller Among the Living, still doesn't have a U.S. release set. I'm not really feeling a lot of love for Leatherface, as the Chainsaw franchise is pretty horrible outside of Tobe Hooper's films, but I'm extremely interested to see these French filmmakers' takes on an American icon.
One Half of Key & Peele is Making a Horror Movie
Comedian Jordan Peele has played a part in several of 2014's best TV series, from his writing and acting work on Comedy Central's genius sketch comedy Key & Peele to his recurring role on FX's Fargo to his voice work on Fox's Bob's Burgers. He's now got his eye on the horror genre and will be directing a straight-up thriller for Darko Entertainment called Get Out. Here's how Peele described the project to Playboy:
It'd be easy to assume that this will partly be a comedy, but Peele is apparently content with keeping the scares outnumbering the laughs. Should Get Out find success, it could open the door for more horrors from black directors and writers that weren't born into the Wayans family. Now let's get Keegan-Michael Key working on science fiction.
Starry Eyes Trailer Delivers the Strangest Audition Ever
How much would you do to get your dream job? Sarah (Alex Essoe) will pretty clearly do whatever it takes in order to get a foothold into Hollywood as an actress, but Kevin Kolsch and Dennis Widmyer's Starry Eyes isn't just a movie about a girl's journey on a casting couch. As you can tell from the expertly crafted trailer above, this is about…well, I can't really tell what Sarah has to go through for this new role. But it looks freaky as all get out, and few horrors have been as universally acclaimed on the festival circuit as Starry Eyes has been all year.
Sarah sees something idyllic and magical about the Hollywood scene, which obviously puts her in the state of mind to take chances - as does a neverending series of unsuccessful casting calls. When a mysterious production company wants her for their new project, Sarah subjects herself to both physical and emotional changes in order to become the perfect star. The trailer is a little too heavy with the positive blurbage, but given the polarizing effect horror movies have on people, I guess it's good that they're being advantageous with it. Starry Eyes hits VOD on November 14th, and we swear you don't have to do anything weird in order to watch it.
NSFW Vampyres Trailer Delivers Boobs, Blood and Other Madness
Looking to spice up your horror viewing with some cinematic eroticism? The above trailer for Spanish director Victor Matellano's Vampyres is full of gory charged-up imagery, and lends a lot of credibility to this remake of Joseph Larraz's 1974 original. I'm almost too impressed by how distinct the film looks, and how well it blends its sins together. That end scene, which is just kind of awkwardly tacked on there, is of the two lead vampires getting dirty in a bathtub while a recent victim is hung up and bleeding out over them. That's pretty fucked up, even in my current, desensitized state.
The movie centers on two female vampires whose large home is the setting for countless numbers of blood-covered orgies and other fits of debauchery. Vampyres, which co-stars scream queen Caroline Munro (Maniac), had Larraz on its pre-production team before the filmmaker died late last year, so it's good that this was a director-sanctioned remake. Will this lewd thriller rival the theatrical sadism of Interview with the Vampire, or will it only serve as late night Cinemax bait? Find out at some point if the Artistic Films production ever finds U.S. distribution.
Clown Nightmares Abound in This Trailer and Poster
If you're obsessed with clowns in horror and you need a nice palate cleanser after American Horror Story: Freak Show, then Jon Watts' Clown should be right up your nose-honking alley. The film started as a proof of concept trailer that director Eli Roth watched and decided to turn into a real feature. There's no sign of U.S. release news from Dimension Films – it's only listed as being 25 minutes long on IMDb, so I'm not sure how it would be released anyway – but it's hitting theaters in Italy in a couple of weeks, and we now have an Italian trailer to go with the new poster above. It's not in English, but it's a lot more frightening than the previously released English version anyway.
Clown stars Andy Powers as Kent, a dad who dressed up as a clown for his son's birthday party, completely unaware that the suit he's wearing is EVIL! He can't take it off and doesn't realize that the suit is turning him into a killer. Few ideas in the horror-sphere are as disturbing as a never-ending clown persona, and though it's likely this solid hook will be filtered through a bunch of horror tropes, I'm totally on board to get versed in ancient clown lore. Co-starring Peter Stormare, Laura Allen and Elizabeth Whitmere, Clown hopefully looks as good in longform as it does in trailers.
Nick is a Cajun Country native, and is often asked why he doesn't sound like that's the case. His love for his wife and daughters is almost equaled by his love of gasp-for-breath laughter and gasp-for-breath horror. A lifetime spent in the vicinity of a television screen led to his current dream job, as well as his knowledge of too many TV themes and ad jingles.
Your Daily Blend of Entertainment News
Thank you for signing up to CinemaBlend. You will receive a verification email shortly.
There was a problem. Please refresh the page and try again.