First How To Train Your Dragon Trailer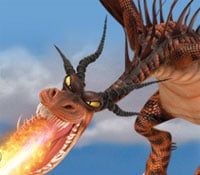 The first teaser trailer for the DreamWorks animated movie How To Train Your Dragon has arrived online and while it doesn't contain a lot, it does contain a fire-breathing dragon. That should be good enough for anyone.
The trailer has been floating around YouTube and unfortunately, it's only available in a very small, grainy format. Squint your way through it below or wait around till we dig up a better one. I suspect at some point it'll show up on the movie's new official site. Your choice. Here's the dragon:
Your Daily Blend of Entertainment News
Thank you for signing up to CinemaBlend. You will receive a verification email shortly.
There was a problem. Please refresh the page and try again.