First Look At Concept Art From Pixar's Brave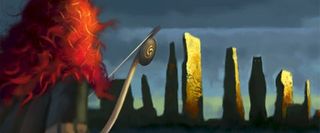 Very exciting news this rainy Monday morning. With the release date of Pixar's 13th animated feature Brave set at June 22nd, 2012, they're starting to build excitement for the film today by releasing a few concept images from early in the production process.
EW has the lush and colorful images which show off the Scottish Highland landscape where the film, previously titled The Bear and the Bow, will take place. They're also confirming that instead of the American as apple pie Reese Witherspoon voicing Merida, Brave's star, she will be voiced by Scottish as hell actress Kelly MacDonald, who you saw in No Country for Old Men and more recently Boardwalk Empire on HBO.
Brave marks several firsts for Pixar. It will be their first fairy tale, although most of their films have a whimsical sort of feel to them, and it will also be the first time a woman has directed. She won't be the only one directing though. In October, Marc Andrews took over the seat from Brenda Chapman, but Chapman will still be credited as one of the film's directors. After all, Brave was Chapman's idea.
These first three images obviously aren't indicative of what the final film will look like, but they are a look into Pixar's process and that is always worth your time. Check out the pic's below.
Your Daily Blend of Entertainment News
Thank you for signing up to CinemaBlend. You will receive a verification email shortly.
There was a problem. Please refresh the page and try again.