First Look At Philip Seymour Hoffman On The Moneyball Set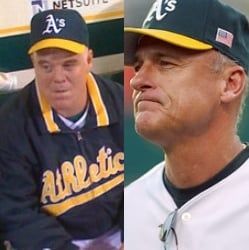 While some movie sets-- particularly the ones involving superheroes or robots-- will stay on lockdown to avoid even the tiniest bits of information leaking out to the public, the people behind Moneyball, or at least its Facebook account, are opening the doors for the world to see. Part of it was inevitable-- they've brought in hundreds of extras to play the crowd during the baseball game scenes-- but someone down there in the heart of things on the set is going out of their way to bring us interesting photos, and really, I can't thank them enough for it.
It's not exactly mind-blowing to see this new image of Philip Seymour Hoffman in costume as Oakland A's manager Art Howe, but it is fun to see, particularly if you want to make the side-by-side comparison we've included above (the resemblance is, uh, not particularly striking). The Moneyball Facebook Page is a fascinating resource of minutiae, from photos taken by the extras way up in the nosebleed seats to apparently an ardent Oakland A's fan pointing out that a blond actress hired to play a reporter for AM station KNBR 680 is out of place, since the station only had male reporters at the time. They're treating the movie like they treat the sport of baseball itself-- obsessing over the minutiae. It feels utterly appropriate.
Moneyball, to do the quick rundown, is an adaptation of Michael Lewis's non-fiction bestseller, about how Oakland A's general manager Billy Beane (Brad Pitt) and an economics whiz from Harvard (Jonah Hill) changed the way the team recruited new players and led the A's to first place in their division. The movie is being directed by Bennett Miller and famously went through a series of delays when Steven Soderbergh was trying to make it. Now it's finally in production, which means I can finally stop writing about how it's not yet in production.
Check out the bigger version of Hoffman's photo below, and click on it for the new full gallery, called "Photos From An Actor's Perspective." We can pretend they were all taken by Brad Pitt if you really want.
Your Daily Blend of Entertainment News
Staff Writer at CinemaBlend