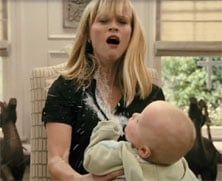 Four Christmases is lucky nobody actually saw Christmas with the Kranks, because they're kind of using the same premise. That's alright. It's a decent premise really, one which Kranks never properly took advantage of, and they can't help but do it better than Tim Allen did, so why not.
It's the story of a couple trying to avoid the holidays, but forced not only into celebrating Christmas, but into spending it with their respective families as well. I'm sure at the end the positive message of Christmas overwhelms them and there's some glowing moment where they all get into the spirit of the thing, but the movie's first trailer is mostly just Reese Witherspoon being vomited on while Vince Vaughn stands by complaining. Now that's my kind of Christmas movie.
Watch the first trailer for Four Christmases below:
Your Daily Blend of Entertainment News
Thank you for signing up to CinemaBlend. You will receive a verification email shortly.
There was a problem. Please refresh the page and try again.