General Motors May Help Finance A Guy Ritchie Cannonball Run Remake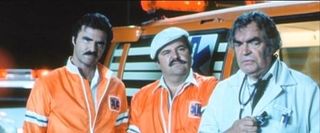 Talk about product placement: NY Mag's Vulture blog is spilling the beans on a possible remake of The Cannonball Run, to be co-financed by none-other than GM. Yes, that's "General Motors" GM. Hey, they've struggled as a car company in recent years, so maybe they'll make better movie producers!
According to sources, there are several names circling the project, but none on the dotted line just yet. Warner Bros. is apparently keen to sit director Guy Ritchie in the driver's seat, and he wants Brad Pitt as the lead. They're not the only contenders in this race, however. Supposedly Real Steel director Shawn Levy is also interested, but with Ben Stiller as his choice to headline the film. Needless to say, this Cannonball Run could go several different ways depending on who crosses the finish line. In the meantime, Al Ruddy (The Godfather) is producing the project.
So how the hell does GM fit into all of this? Supposedly the company wants to make a serious investment in the flick as a platform to show off their latest and snazziest new cars. That sort of product placement is increasingly common in Hollywood these days, but GM's deal could make it a bigger-than-usual part of the potential remake. Hey, it's Cannonball Run, it's gonna need cars; if GM wants to provide them, why not let them?
The original 1981 Cannonball Run starred Burt Reynolds, Roger Moore, Dom DeLuise, Farrah Fawcett, Dean Martin, and Sammy Davis Jr. in the story of a cross-country race.
Your Daily Blend of Entertainment News
Thank you for signing up to CinemaBlend. You will receive a verification email shortly.
There was a problem. Please refresh the page and try again.