George Lucas Taking Over Massive Reshoots On Red Tails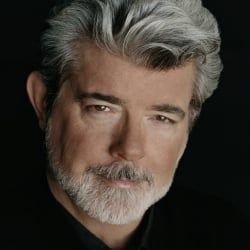 UPDATE: A Lucasfilm rep sent along this correction:
George Lucas is a multi-hyphenate mogul with involvement in lots of projects and lots of people working for him, but he's also a control freak-- how else do you explain those added CGI beasts into the original Star Wars? So while Lucas has only been serving as executive producer on Red Tails, a biopic about World War II's Tuskegee Airmen, it's been safe to assume Lucas has been more than just a vague guiding force for director Anthony Hemingway. To put it in Star Wars terms, he seems more Yoda than Obi-Wan Kenobi.
But according to First Showing, Lucas is now effectively taking the lightsaber out of Hemingway's hands entirely. Apparently unhappy with Hemingway's works, Lucas himself is directing massive reshoots for the film, and has also rewritten several main characters and storylines. The film wrapped last fall, and producer Rick McCallum is apparently poring over Hemingway's work as we speak, determining just how much of it will need to be reshot.
This is the kind of story that will never be confirmed or maybe even acknowledged by an official source, but it sounds about right-- news about Red Tails has been hard to find lately, and given what a pet project it's been for Lucas, it's easy to imagine him taking over the reins entirely. Just add Hemingway to the legions of people who believe Lucas has ruined his life-- though in his case, unlike those guys dressed as anti-CGI Stormtroopers, Hemingway actually has a valid complaint.
Your Daily Blend of Entertainment News
Staff Writer at CinemaBlend