Gerard Butler's Olympus Has Fallen Coming To Compete With Channing Tatum Next Year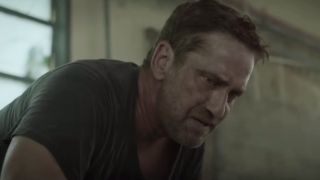 (Image credit: Lionsgate)
When Roland Emmerich cast Channing Tatum to star in his thriller White House Down, about a secret service agent defending the President's home from a terrorist attack, it seemed like this was the project that won the war. Because, like asteroids and Truman Capote biopics before it, "White House under siege" movies were suddenly in vogue, with Gerard Butler also developing Olympus Has Fallen, a movie with the exact same premise as White House Down. The Tatum-Emmerich went into production first and set a June 28 release date next year; that was the end of the rivalry, right?
Not so fast. Olympus Has Fallen did in fact go into production, with Antoine Fuqua behind the camera, and now that it's finished FilmDistrict has picked up the rights, with an April 5 release planned for next year. If you're keeping track, yes, that does put it a few months ahead of White House Down, in timing that's fairly eerily similar to last year's battle of the Snow White movies. Tarsem's candy-colored Mirror, Mirror debuted March 30 this year, barely a month ahead of the June 1 release of Snow White and the Huntsman. The second, darker, Kristen Stewart-led take on the fairy tale wound up being the much bigger hit, which might be a bad omen for the fate of Olympus Has Fallen.
But before we have any idea how to tell the difference between the movies-- aside from "the one with Channing Tatum" and "the one with Gerard Butler"-- we need to learn a little more about them. Here's the synopsis for Olympus Has Fallen that arrived with the announcement:
Now compare that to what we recently wrote about White House Down:
The fact that Gerard Butler is 11 years older than Tatum is about all we have to go on here. You might also use the actors playing the Presidents as a guide-- Jamie Foxx is getting Presidential opposite Tatum, in a role that looks pretty hefty. In Olympus Has Fallen Aaron Eckhart will sit in the Oval Office. I know, I know, I'm confused already. Let's just wait until we can see trailers for both of these before it gets much hazier.
Your Daily Blend of Entertainment News
Staff Writer at CinemaBlend