Gerard Butler And Roger Deakins Confirmed For How To Train Your Dragon Sequel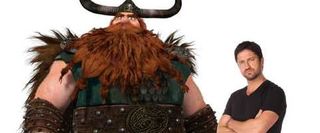 Ever since a sequel was officially announced this spring, there's never been much doubt that all of the major players from How To Train Your Dragon would be returning for the second film. Jay Baruchel, America Ferrara, Jonah Hill, Kristen Wiig and virtually all of the voice cast have been on board for months, but now Empire Online is reporting that the last holdout, Gerard Butler, has signed on as well. Maybe even more excitingly, the production team will once again be getting advice from Roger Deakins, the famed cinematographer who consulted on lighting for the first film as well as Pixar's Wall-E.
All of this information comes from director Dean DeBlois himself, who is once again promising the sequel will be "the second act of a much larger story" and that he's planning for a trilogy structure. The news about Butler coming back is a relief, not so much because of Butler's unparalleled skills as a voice actor, but because he voices Hiccup's dad, a key element of the first film's emotional impact. Even though the sequel isn't likely to focus on the boy's efforts to impress his father, it's hard to imagine coming back into this world without having Hiccup's dad as a part of it. The Deakins news is just icing on the cake, another strong sign that the first film's spectacular visuals will carry over into the sequel.
How To Train Your Dragon 2, or whatever they wind up deciding to call it, is set for a release in 2013-- not soon enough.
Staff Writer at CinemaBlend
Your Daily Blend of Entertainment News
Thank you for signing up to CinemaBlend. You will receive a verification email shortly.
There was a problem. Please refresh the page and try again.