Giovanni Ribisi Signs On For Seth MacFarlane's Talking Bear Movie Ted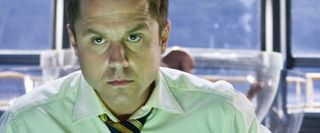 Giovanni Ribisi, last seen playing the Paul Reiser Memorial James Cameron Asshole role in Avatar, has signed on to star in Ted, the directorial debut of Family Guy creator Seth MacFarlane. Oddly enough, though Mark Wahlberg has been talking about starring in the film since December, and Mila Kunis has been rumored for a part since December, Ribisi is actually the first cast member to be official, based on the information we got from Universal.
They also sent along some official information about the plot, which matches what we've been hearing since last fall but is worth taking a look at anyway:
The main question I have now is whether Ribisi has signed on the role for which Adam Scott was apparently in talks back in December. Wahlberg plays the grown man who's attached to his teddy bear, with Kunis as the girlfriend who's sick of dealing with his nonsense. As of December Scott was supposed to play Kunis's jerky boss, but it does sound like a part that Ribisi would be perfect for. Hopefully we'll get some information soon about his role and figure out how all the pieces fit together.
Staff Writer at CinemaBlend
Your Daily Blend of Entertainment News
Thank you for signing up to CinemaBlend. You will receive a verification email shortly.
There was a problem. Please refresh the page and try again.