Girl With The Dragon Tattoo Poster Is Now Official, And Officially NSFW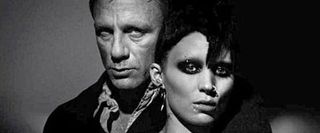 This week we've gotten our first look at what to expect from The Girl With The Dragon Tattoo thanks to the new trailer, as if we didn't already know what a gritty crime drama would look like from David Fincher. Yesterday, an unofficial snap of the international poster was posted online, quickly followed by the release of the French poster.
Not much new to report today, but Total Film got their hands on the official international one-sheet for the film, so if you're looking for a brighter, crisper, mostly obstructed image of Rooney Mara's boob for your desktop, this is the image for you. Scope it out below, but be advised, there's an exposed breast veiled only by a semi-transparent number.
You've been warned. Click for the high-res version.
As an aside, please hop on your Netflix and watch the original Swedish adaptation. I'm on board for the Fincher remake because frankly the first take on The Girl Who Played With Fire wasn't very good, but the first flick is amazing and even looks mostly like a Fincher film already. Don't discount it just because it has subtitles, go enjoy it.
Your Daily Blend of Entertainment News
Thank you for signing up to CinemaBlend. You will receive a verification email shortly.
There was a problem. Please refresh the page and try again.