Great News If You Want To See Interstellar 6 Times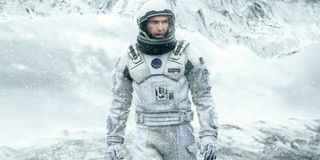 By now, just about anyone with even a passing interest in cinema has gone to see Interstellar, and Christopher Nolan's hugely ambitious space opera has both disappointed viewers and enthralled them in equal measure. If you're in the latter camp, then a new promotion from Paramount and AMC Theatres will have you doing cartwheels with excitement.
According to the Hollywood Reporter, a unique promotion from AMC theatres and Paramount has been unveiled which means that fans can go and see the film as many times as they want. That's right: if you found yourself bedazzled by Christopher Nolan's deep space exploration for a new home for humanity then you can go back and celebrate his work as many times as you want without paying a penny more. Both companies involved in the deal have labelled it as the first of its kind. Unfortunately, for all of you Interstellar fans in Europe, South America, Asia, Africa, Australia and Antarctica, this deal is only being offered to movie patrons in North America.
However, before you quit your job, leave your spouse, and rush to your closest AMC to take advantage of this rather spectacular offer, you should probably know that there are some rules and regulations to the promotion. First of all, if you want to take advantage of it you have to be a member of the AMC Stubs program, which has an annual fee of $12. You also then have to head to one of the 330 AMC theatres in the country - which includes those that also have IMAX screens - where you can buy one of the unlimited tickets available. These range from either $19.99 to $34.99 depending whereabouts in the country you live.
Elizabeth Frank, who works as AMC's executive vice president and chief content and programming officer, waxed lyrical about Interstellar while announcing the deal. She sounds quite confident that people will leap on the offer in their droves. Said Frank,
It will be interesting to see if AMC's unique offer actually works. While I was truly captivated by Interstellar,, especially Hans Zimmer's magnificent score, I've not found myself pining to return to the cinema to see it again. But if it does succeed then we could see subsequent blockbusters follow suit, and that's something that we can all get excited about.
Your Daily Blend of Entertainment News
Your Daily Blend of Entertainment News
Thank you for signing up to CinemaBlend. You will receive a verification email shortly.
There was a problem. Please refresh the page and try again.