Guillermo Del Toro's Mysterious New Project Might Be His Weirdest Yet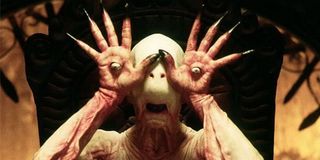 Any information regarding a new Guillermo Del Toro is welcome with open arms by moviegoers. The portly, bearded, Mexican is adored the world over for his filmmaking talents, while the fact he's just so gosh darn friendly and huggable doesn't hurt too. That's despite the fact that he's been responsible for some of the spookiest and scariest films of the last two decades. And his latest project sounds as though it could easily be his weirdest to date, because it's been described as "Wall-E meets Splash".
I'm going to take a wild guess and assume that I'm not the only one who is immediately intrigued. Tracking Board were the first to confirm that Guillermo Del Toro is currently working alongside Fox Searchlight on the tantalizing project, which, despite its description still doesn't have a title. I'd have gone with WallSplash, but that's just me.
Both Fox Searchlight and Guillermo Del Toro are keeping any further details regarding their project very much to themselves for the time being. In fact, all that we do know is that the Pacific Rim and Pan's Labyrinth filmmaker has written the script and plans on directing it too. Del Toro will also assume his position as the film's producer, while he will receive assistance in this role from Fox's DanTram Nguyen and David Greenbaum.
The above description really doesn't give too much away. For those of you that haven't seen it, Wall-E, which is arguably Pixar's most distinguished film to date, revolves around a lonesome robot that has been left on a garbage-strewn Earth and tasked with cleaning it up. It's also incredible.
Meanwhile, Splash stars Tom Hanks as Allen Bauer, who falls in love with the beautiful but mysterious Madison (Darryl Hannah), whose secret is that she is actually a mermaid. It's whimsical, light, funny, and an inoffensive romantic comedy, which is made all the more appealing by the wonderful leading performances of Tom Hanks and Daryl Hannah. Simply put, it's everything you wouldn't expect from the director of The Devil's Backbone.
Exactly how Guillermo Del Toro plans to combine these two films in his own inimitable style remains a mystery. But, there's every chance that Del Toro might be leaving behind his more adult themed content for lighter fare, as he has previously produced the likes of The Book Of Life, Puss In Boots, Rise Of The Guardians, and the Kung Fu Panda sequels.
If the thought of that is upsetting to you Del Toro die-hards then you can console yourself with the fact that Crimson Peak, his latest gothic horror, is due out just next month, on October 16th.
Your Daily Blend of Entertainment News
Thank you for signing up to CinemaBlend. You will receive a verification email shortly.
There was a problem. Please refresh the page and try again.