The Hangover Part II Slaps Utah Movie Theater With A $1,627 Fine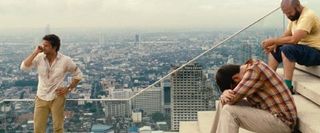 The headline in The Salt Lake Tribune is really all the evidence you need that this is a truly bizarre story: "The Hangover Part II runs afoul of Utah's liquor laws." No, The Hangover Part II was not filmed in Utah, nor is it set in Utah, nor has it been playing in most theaters since it opened over Memorial Day weekend four months ago. But yes, the Brewvies Cinema Pub in Salt Lake City managed to get slapped with a $1,627 fine for "attire and conduct" violations, simply for showing that innocent film in which Ed Helms is shown having sex with a transsexual stripper. Now where are people supposed to take their kids to the movies this weekend?
As is usually the case with these stories of surprising fines and people accidentally running afoul of a law they didn't know existed, this is all about bizarre local ordinances and one place holding a grudge against another. There's no law in Utah against showing R-rated movies, but the state liquor board does forbid bars and clubs that serve alcohol from "showing images of certain sex acts and full frontal nudity." Brewvies is one of those wonderful kinds of movie theaters that also serve alcohol, so they come under scrutiny of the state liquor board, who staged a sting against the theater in June at request of the liquor control department. They, as it turns out, had been tipped off by a nearby strip club, which had been cited for "sexually explicit violations" and complained that, by running The Hangover Part Ii, Brewvies was showing things that were way, way worse.
It's hard to argue that-- The Hangover Part II show all kinds of vile things a strip club wouldn't be capable of, from Ken Jeong's supposed micropenis to a monkey masturbating a plastic water bottle. But I think we can all agree it's absurd to hold a strip club and a movie theater to the same standard of "sexuality explicit violations." Then again, this is all happening in Utah, a place with laws and moral codes so strange it's like nowhere else on earth.
(Hat tip to Pat's Papers for digging up this story).
Your Daily Blend of Entertainment News
Staff Writer at CinemaBlend