The Hangover Part III Script Is Already Being Written, Craig Mazin Rehired By Warner Bros.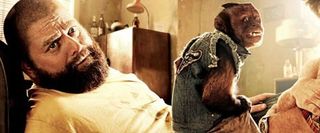 In a move that should surprise absolutely no one, Warner Bros. has already started cranking the gears to get The Hangover Part III in motion. The Wrap is reporting that Craig Mazin, who wrote the second film, has been brought in to start writing the third, though if I were to guess I'd say he'd already started the work and this just makes for the official announcement. The Hangover Part II, of course, is currently enjoying an enormous box office run, grossing $205 million worldwide in its first 5 days and toppling all existing records for R-rated movies. It also earned some scathing reviews, but of course nobody but critics seem to care much about that.
The one interesting and/or surprising thing here is that Mazin's Hangover Part III co-writer Scot Armstrong is not mentioned as signing on already. Also, according to a tweet from Variety's Jeff Sneider, there are no contracts yet signed requiring director Todd Phillips or any of the stars to return for a third film, or specifying their salaries. That means every single one of them will be negotiating for higher salaries, or maybe even a cut of the grosses-- Phillips famously surrendered his salary for the first film in favor of a cut of the box office, and I've heard that at least Galifianakis struck a similar deal this time, making both of them already very wealthy. Of course, maybe all of them will feel even a tiny bit of shame after hoodwinking the entire world by remaking the same film again, and they'll walk away with the money in their pockets and at least a little bit of dignity still intact.
Yeah, I know that won't happen. But we can dream, right?
Staff Writer at CinemaBlend
Your Daily Blend of Entertainment News
Thank you for signing up to CinemaBlend. You will receive a verification email shortly.
There was a problem. Please refresh the page and try again.