The Hangover Is A True Story?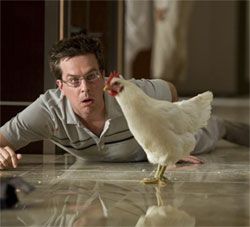 What are some of the worst things that have come from a mistake you've made? A video that a small group of your friends saw? Some pictures on Facebook? Maybe an illegitimate kid? Well, other than that last one, not many things can be worse than having a #1 summer movie made about your blunder. And that's exactly what happened to producer Tripp Vinson.
According to an in-depth article by Deadline Hollywood about the origins of The Hangover, the movie's producer, Chris Bender, had heard a story about his friend, Tripp Vinson, disappearing during a weekend bachelor extravaganza in Vegas. Vinson blacked out and woke up to a large strip club bill and no recollection of what had happened the previous night. Feeling that it had potential as a movie, Bender passed the story on to writers Jon Lucas and Scott Moore, who wrote a spec for the film that after a few years in development hell ended up at Warner Bros.
What's most interesting about this movie is that just about everyone involved (other than Todd Phillips) was responsible for at least one of the many horrible comedies of the last five years. Ghosts of Girlfriends Past. Four Christmases. Monster-In-Law. You get the point. So how did they all come together and make such a comedic gem? Apparently Phillips and writer Jeremy Gerelick had more to do with the script than the WGA would have you believe.
So what do we learn from all of this? Never party with Hollywood writers or producers, and never trust the writers' union. Fair enough. Who's up for a trip to Vegas?
Your Daily Blend of Entertainment News
Thank you for signing up to CinemaBlend. You will receive a verification email shortly.
There was a problem. Please refresh the page and try again.