Will Henry Cavill And Alice Eve Be The Big Breakout Stars Of 2013?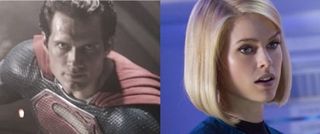 Making predictions about the year to come is tempting right around the new year, but also damn near impossible. Even when it comes to looking at the movies, which are released on a set schedule, it's hard to know what to expect-- movies become blockbusters and nobodies become movie stars every year with barely anybody seeing it coming.
And yet, here we are predicting the year to come anyway, and it's not just professionals who are doing it-- the users of Fandango.com have chimed in to say which actors they expect to be the biggest new stars of 2013. It should surprise nobody that an up-and-coming superhero tops the list, while the top female is part of another big franchise. Take a look at both lists below:
Some of these seem like extremely safe bets, given that Moretz, Hoult and Hammer have all been rising stars for a long time now. Others seem obvious on the surface but might not work out that way. Henry Cavill may find the same fate that Brandon Routh did when playing Superman. Jai Courtney may be overshadowed by Bruce Willis in A Good Day To Die Hard. And as for Gabriella Wilde in Carrie, does anyone but Carrie herself make a big enough impact in that film to actually break out?
If I were to pick anyone on this list I'd pick Hammer, who's shown so much charisma in The Social Network and Mirror Mirror that he seems like a major movie star the world just hasn't caught up to yet. I feel the opposite about Claflin, who was so dull in both Snow White and the Huntsman and Pirates of the Caribbean: At World's End that I'm actively dreading his turn at Finnick in Catching Fire. And I have no idea what to expect from Eve, who's appeared in many of the promos for Star Trek Into Darkness but has a lot of castmates to fight for screen time.
And what about the actors who aren't necessarily in blockbusters but still stand to become big stars this year-- the Jessica Chastains of the world, you might say? It's much harder to see them coming, which makes polls like this tricky. But if you guys have ideas of which actors you think we'll all be fans of by the end of this year, by all means, let us know in the comments.
Your Daily Blend of Entertainment News
Staff Writer at CinemaBlend