Hollywood Spent $750 Million On Christmas Releases, But Will You See Them?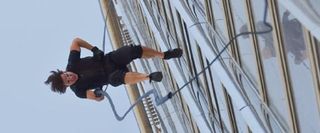 It's no secret that the box office numbers have been pretty crappy this year. You'd think that would make Hollywood extra cautious and thrifty when it comes to planning new releases, but that logic doesn't seem to apply to the next week and a half. As we head into Christmas week, kids are home from school, people are off work, and the studios are betting that lots and lots of those people will want to go to the movies.
If you do, you're certainly not going to be hurting for new releases to choose from. Here are just some of the movies opening over the next two weeks: Sherlock Holmes: A Game of Shadows, Mission: Impossible - Ghost Protocol, Alvin and the Chipmunks: Chip-Wrecked, The Girl with the Dragon Tattoo, The Adventures of Tintin, The Darkest Hour, We Bought a Zoo, In the Land of Blood and Honey, and War Horse. That's nearly as many high-profile movies as release in a typical month, and collectively, they are costing Hollywood over $750 million.
That figure comes from a new story in the Los Angeles Times, which also speculates that Hollywood may be shooting itself in the foot by overcrowding the holidays. As Phil Zacheretti, president of Phoenix Big Cinemas Management, says, "We've got more films than we can handle. There are nine films with the potential to do good business, but moviegoers can't squeeze them all into this short period of time." And that doesn't even count more indie fare such as The Artist or Extremely Loud and Incredibly Close.
There's no question that the season's biggest releases will make bundles of money, but some of the smaller-profile films may suffer for it. How much better would Cameron Crowe's We Bought a Zoo, for instance, do if it was released in a month that wasn't so overcrowded? It's supposed to be pretty good, but I'm afraid it may simply be swept away under the tide of bigger films.
Your Daily Blend of Entertainment News
Thank you for signing up to CinemaBlend. You will receive a verification email shortly.
There was a problem. Please refresh the page and try again.