Hope Davis Steps In As Hillary Clinton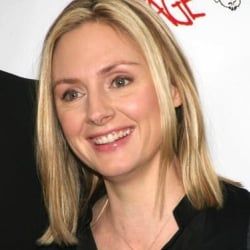 As of just a few weeks ago, when Peter Morgan opted not to direct The Special Relationship, it was understood that Julianne Moore would be playing Hillary to Dennis Quaid's Bill in the story about the relationship between the American President and British Prime Minister Tony Blair. But now EW is writing that Hope Davis will be taking over the role after Moore dropped out to scheduling conflicts-- and all you really have to do is take one look at her to realize why the choice is a good one.
Julianne Moore is a fantastic choice for virtually any role, obviously. But Hope Davis actually looks like Hillary Clinton, and as a Broadway veteran herself, can surely handle the role with ease. Talking to EW just before a performance of her current Broadway show God of Carnage, Davis said she's already started to think about how she'll relate to Clinton. "Almost every woman in the world has been in that position -- it was a long time ago in my life -- where the person that you trusted looks at you and says, 'I have an admission to make.' It's a moment we've all lived through."
The film had initially been billed as a kind of follow-up to The Queen, with Michael Sheen once again playing Blair, but with Morgan gone as a director it looks like something quite different is shaping up. Hopefully for Davis, who has definitely earned a breakout movie role, it will be something worthy of her talents.
Staff Writer at CinemaBlend
Your Daily Blend of Entertainment News
Thank you for signing up to CinemaBlend. You will receive a verification email shortly.
There was a problem. Please refresh the page and try again.