How The Dark Knight Influenced Tom Cruise's Mission: Impossible 5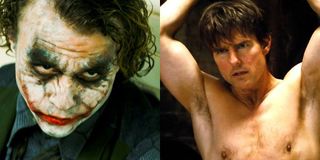 Mission: Impossible - Rogue Nation will finally hit screens this weekend, but the early chatter from reviews and preview screenings is that it is yet another worthy addition to a franchise that just seems to get better and better with age. But how did Christopher McQuarrie manage to top the efforts of Brad Bird and J.J. Abrams' most recent installments to the series? Well, he took inspiration from The Dark Knight. More specifically, the antics of the superhero sequel's villain: The Joker.
Christopher McQuarrie, who has both written and directed Mission: Impossible Rogue Nation, made this revelation during a recent roundtable interview that ComicBook.com was privy to. McQuarrie admitted that he found evil to be a "really tough concept" to get his mind around as he always believed the idea of a villain that is evil just to be evil rather "absurd." However, there is one key exception to McQuarrie's view. As he explained:
In Mission: Impossible Rogue Nation, Ethan Hunt and his merry band of IMF agents find themselves going up against the Syndicate, which is made up of other agents that are anti-versions of Tom Cruise, Jeremy Renner, and Simon Pegg's characters. These doppelgangers, who are led by Sean Harris' Solomon Lane, caused McQuarrie a little bit of headache though, as the Academy Award-winning writer struggled to create a genuinely evil villain. And in order to cure this quandary Christopher McQuarrie, who won the aforementioned coveted gong for his work on The Usual Suspects, turned to The Dark Knight's version of The Joker.
Christopher McQuarrie also confided that he struggled with the fact that he didn't really know who Lane was. Plus, he also hated the fact that even though he was creating all of this chaos for IMF to deal with, "there's not a great deal of on-screen chaos caused by him."
But McQuarrie soon clocked onto the fact that what made Mission: Impossible Rogue Nation so intriguing was the fact that Lane was constantly in the background and he had created "a set of circumstances" that pushed the movie forward. McQuarrie then explained his eureka moment, as he divulged:
It all seems to have worked out rather well for both Christopher McQuarrie and Mission: Impossible 5, too, because the film has been met with sterling reviews and is expected to dominate the box office this weekend. In fact, there's already chatter that Mission Impossible 6 will soon follow. And with the franchise aging just as well as Tom Cruise, why would they even consider stopping?
Your Daily Blend of Entertainment News
Thank you for signing up to CinemaBlend. You will receive a verification email shortly.
There was a problem. Please refresh the page and try again.