How Lee Daniels' The Butler Stacked Up 41 Producers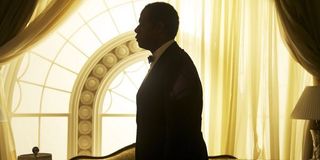 The word "producer" has a slippery definition. Some producers are absolutely essential to a film's development, finding screenwriters, hiring a director, putting together a skilled and talented crew, and engaging in the complicated casting process. Sometimes a producer's name alone will help get the film more attention, like when Quentin Tarantino or Guillermo Del Toro "present" a picture. And sometimes a producer credit is given to a person who kicked in serious cash towards getting a given film made. With 41 producers earning screen credit in Lee Daniels' The Butler, a solid chunk of them appear to fall into this last category.
THR details the complicated fundraising that lead to an absurdly long list of producers that includes a New Orleans heir, a Ukrainian billionaire, a NBA veteran, and one of the U.S.'s most successful African-American entrepreneurs. With a proposed budget of $30 million, Lee Daniels' The Butler was by far his most expensive production yet, costing more than twice what his last film, the polarizing crime-drama The Paperboy did. With a sprawling cast required, sets of the White House demanded, and hopes of bringing in A-List talent, a bigger budget was unavoidable. But without studio backing, how was he to raise this kind of money? That was the task set before producers Laura Ziskin and Pam Williams.
The pair took the Danny Strong's screenplay to former BET network exec Sheila Johnson, who is now the owner of three pro sports teams as well as vice chairman of Monumental Sports & Entertainment, and CEO of a series of luxury properties in Virginia. The story of Eugene Allen, an African-American butler who witnessed the transformation of race relations in the U.S. from his long-held position at the White House, spoke to Johnson, and she decided she would not only help finance the film, but would dedicate herself to finding like-minded individuals to do the same.
"In Hollywood, no one wants to step up to the plate to support African-American films," Johnson explained. So, she took on the role of executive producer, put up $2.7 million and got to work contacting other affluent African-Americans for her cause, like her son, shoe designer Brett Johnson, and philanthropist Earl W. Stafford and CEO Harry I. Martin, Jr., who both garnered executive producer credits. The production suffered a setback when Ziskin died in the summer of 2011, but The Paperboy producer Cassian Elwes stepped in to seek out foreign investors. This is how Ukrainian-born billionaire Len Blavatnik, former NBA star Michael Finley, and aspiring filmmaker/wealthy New Orleans native Buddy Patrick joined in. All told, they raised $16 million in private equity, made $6 million in tax rebates, another $6 million in foreign presales, and secured $2 million in gap financing. And just as The Butler rolled into production Johnson got a call from Harvey Weinstein, who wanted to buy the film's domestic distribution rights. The deal—which shockingly was signed without any representative from The Weinstein Company actually seeing any footage—promised another $30 million for marketing alone.
With a seemingly inspirational story of an American family thriving in the face of adversity, plus a cast that includes includes Forest Whitaker, Oprah Winfrey, Mariah Carey, Vanessa Redgrave, Alan Rickman, Robin Williams, and many, many more, Lee Daniels' The Butler has been drawing early buzz as an award season contender. Undoubtedly, its good-on-paper appeal is what made TWC leap at the chance to buy it. But with reviews finally surfacing, the chances for award season domination seem to be sinking fast. The silver lining to that may be that the film can avoid the kind of producer lawsuits the Oscars tends to bring on, when the Best Picture spotlight is only so big. Still, for Daniels' the making of the film in and of itself was a triumph, "They put their money on the table when the studios wouldn't. It's a story that's a movie within itself."
Lee Daniels' The Butler will hit theaters this Friday.
Staff writer at CinemaBlend.
Your Daily Blend of Entertainment News
Thank you for signing up to CinemaBlend. You will receive a verification email shortly.
There was a problem. Please refresh the page and try again.