How Robert De Niro Ruined What Would Have Been Jonathan Demme's Next Movie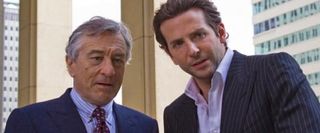 It's depressing to read an article about a potentially great movie falling part, but kind of perversely fascinating as well. Today's tale of woe is about Honeymoon With Harry, a project that would have reunited Limitless stars Robert De Niro and Bradley Cooper in a script written by Paul Haggis and Rachel Getting Married's Jenny Lumet. Jonathan Demme was all set to direct it, they'd done readigs of the script and everything… and, well, you know how this ends.
According to Deadline De Niro single-handedly derailed the project, unwilling to commit even to a script that New Line and Cooper loved; Cooper, not wanting to alienate his co-star, refused to move on with Demme with another actor, and now the project is dead in the water. There's still hope, says Deadline, that Demme might take the project to another studio after he finishes directing a TV pilot for CBS, but it seems likely that Cooper will no longer be involved either.
Honeymoon With Harry, which popped up on the 2005 Black List of unproduced screenplays when it was first written by Haggis, would find De Niro and Cooper as a father-in-law and groom-to-be who wind up on the honeymoon together when tragedy strikes. The script has been kicking around for so long it seems inevitable that it would find new life again, especially with Demme apparently so committed to it. But the version with De Niro and Cooper-- which Demme apparently though was the best possible-- is never going to exist. OK, everyone, enjoy your Friday!
Your Daily Blend of Entertainment News
Staff Writer at CinemaBlend