Taylor Swift And 12 Other People Who Really Need To Host Saturday Night Live Again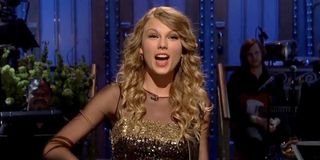 You may have heard of Saturday Night Live's Five-Timer's Club, in which members such as Tom Hanks and Justin Timberlake have hosted the show five times or more. Yet, there also exists an unspoken and unofficial group of celebrities and public figures, such as pop music icon Taylor Swift, who have only hosted once, not counting musical guest appearances or cameos.
In its 45-year run, the legendary sketch comedy series has produced 880 episodes, but only a total of 593 people have hosted it, meaning 287 of those live shows were emceed by a returning champion. Of course, repeat hosts often lead to the series' most successful and anticipated episodes, but the same can also be said for the beloved performers, such as Donald Glover or Anna Kendrick to name a few, whose premiere gig was a long-awaited affair which paid off wonderfully for their careers and for the show itself.
This begs the question, why have these celebrities not yet been given a chance to outlive the SNL One-Timer's Club? We suggest to Lorne Michaels and company 13 people we believe deserve a chance prove lightning can strike twice in Studio 8H, starting with someone whose lucky number just so happens to be 13.
Taylor Swift
Any doubt that a musician like Taylor Swift had acting ability was quelled by her November 2009 Saturday Night Live episode, especially by her self-lampooning musical monologue and a killer Shakira impersonation later on. That wasn't even be her first time appearing in sketches (she played Little Orphan Annie in bit about Broadway during her first musical gig) and not her last either (she played the most exaggerated "Californians" character ever in the 40th anniversary special, for one). Yet, T Swift has only been a host once, returning only as musical guest twice, but maybe one of these days she will try another well-deserved double shift.
Neil Patrick Harris
Taylor Swift's first musical appearance on Saturday Night Live was also Neil Patrick Harris' sole hosting appearance, during which he poked fun at his time on Doogie Howser, M.D. in both his monologue and in an SNL Digital Short featuring a cover of the theme song by Harris and the cast. It was a fun 2009 episode made so by the former How I Met Your Mother star's impeccable talent, which has since earned him countless other hosting gigs, including the 2015 Academy Awards. Perhaps, the truth of the matter is that the actor and producer is just too busy for SNL these days, which, to me, means they should just try harder to get him.
Kerry Washington
Emmy-nominee Kerry Washington hosted Saturday Night Live in 2013, at a time when the cast lacked women of color, which the show hilariously self-indicted itself over by having the Django Unchained star play Michelle Obama, Oprah Winfrey, and Beyonce in the cold open. That does not even scratch the surface of the comedic prowess she exhibited for her one time hosting, from her Scandal-ous monologue to a gut-busting "What Does the Fox Say?" parody with Jay Pharaoh. Clearly she has enough going on to keep her from being a cast member (which would be awesome), but she could at least make the time to host another fantastic episode, right?
Bryan Cranston
We tend to forget how funny the man who won five Emmys for playing Walter White can be. If Malcolm in the Middle does not provide a fitting example, perhaps his 2010 bid as Saturday Night Live host, featuring a monologue explaining his long career with household name status and a brilliant Billy Ray Cyrus impersonation in the first-ever "The Miley Cyrus Show" sketch, will. So far, Bryan Cranston's only return was a surprise cold open cameo as his Breaking Bad alter ego in 2016, but I am still anticipating the day he could reprise the character, and others, on SNL as host.
Lin-Manuel Miranda
At the peak of Hamilton's success onstage, its creator took the stage of Saturday Night Live as host of a 2016 episode that served as a perfect way to show the vast extent of his talents. In fact, behind-the-scenes footage revealed Lin-Manuel Miranda to be an amazing pre-show host as well by surprising audience members lined up outside 30 Rock with pizza. While he would have a tough act to follow if he returned to host again, that is something the Tony-winner has become an undisputed champion at already.
Bradley Cooper
Perhaps that "tough act to follow" mentality is the same reason why Bradley Cooper has only hosted one episode, which aired even before The Hangover made him a household name. He still killed it, notably for a biting impression of his future American Hustle co-star Christian Bale and playing The Karate Kid's Johnny Lawrence as the host of a talk show for cinematic villains. I would love to see him headline another Saturday Night Live ep, given he is still clearly still a friend to the show, having returned for several cameos (including a particularly one opposite Betty White) and obtaining permission to film scenes in Studio 8H for his directorial debut, A Star is Born.
Lady Gaga
Speaking of A Star is Born, Bradley Cooper's leading lady is another with one hosting effort to her name in 2013, which was also marked one of her four musical guest appearances. In addition, Lady Gaga has participated in a sketch almost every time she has appeared on Saturday Night Live and has always been on the right path each time, including her collaboration with The Lonely Island and then-host Justin Timberlake for the second "D*ck in a Box" sequel, "3-Way (The Golden Rule)." The Oscar nominee and Grammy winner could continue making a fun cameos on the show, but it would be such a treat to see her host again.
Donald Glover
The same goes for this multi-talented, award-winning artist who both hosted Saturday Night Live and performed as his rapper alter ego, Childish Gambino, in 2018. The episode, also Donald Glover's official debut as Lando Calrissian prior to Solo: A Star Wars Story, saw the Community vet and Atlanta mastermind show he "really can do anything," proving himself a natural for sketches and earning the privilege a second hosting gig, which has yet to be secured. It makes you wonder how he could have possibly failed to make the cut when auditioning for SNL, even if it might have been for the best.
Awkwafina
In her Saturday Night Live monologue, Awkwafina shared that her first visit to Rockefeller Center was as a child who just "wanted to be near the building" when Lucy Liu made history as the show's first host of Asian descent in 2000. The second to do so, 18 years later, was the Golden Globe-winning comedian turned rapper and Crazy Rich Asians star, who also displayed her penchant for dancing to classic game show theme songs in, arguably, the funniest sketch of the night. Perhaps whenever she returns to the big screen in either Marvel's Shang-Chi and the Legend of the Ten Rings or the live action update of The Little Mermaid, Awkwafina can make her return to SNL because we are convinced there is still much more we have yet to learn about her.
Andy Samberg
Why would I like to see more of Andy Samberg on Saturday Night Live, too? Well, other than how he and his Lonely Island comrades singlehandedly changed the show after "Lazy Sunday" went viral, won a Golden Globe for Brooklyn Nine-Nine, and killed it emceeing the Emmys and Golden Globes alongside Sandra Oh, the guy is just really funny and the fact that he has only hosted once, two years after leaving the cast in 2012, is surprising. Samberg does not even need to plug something like Palm Springs to earn another hosting gig, because just another idea for a Justin Timberlake collaboration would suffice.
Anna Kendrick
While she never became a cast member, Anna Kendrick is somebody tailor made for the world of Saturday Night Live, which she proved in her sole hosting gig in 2014. In just her opening monologue, she was able to show off how well her comedic timing comes through in her astonishing singing voice, before lending it to a song about international "dong" admiration. In fact, I would support the idea of bringing her on as both host and musical guest for her return and just give her anything to sing. Whatever it is, she'll nail it.
Conan O'Brien
Admittedly, Conan O'Brien hosting Saturday Night Live a second time, despite writing for the show years prior to his late night talk show days, is probably the biggest stretch on this list due to his strained relationship with NBC following an awkward, premature Tonight Show exit in 2010. However, what better way to mend those wounds than returning to the set of his big break? Not to mention, could there ever been a better time than now for him to reprise the overenthusiastic superhero Moleculo: The Molecular Man?
Dave Chappelle
One of the most thoroughly hilarious, and dazzlingly bold, episodes of Saturday Night Live in the past decade saw the triumphant return of Dave Chappelle in November 2016. From the blistering commentary on the days-earlier presidential election in his monologue, and much of the show, and the surprising return of many of his Chapelle's Show characters in the form of a Walking Dead parody, the sketch show could not have asked for a better entertainer to emcee the night and at a better time. However, someone as talented as Chappelle needs no excuse to make an appearance and that is just one reason why his official return as SNL host, whenever that may be, is something we can be certainly be patient for, but only for so long.
What do you think? Do these celebrities deserve a second Saturday Night Live hosting gig, or, perhaps, are they better off not trying to repeat themselves? Let us know in the comments and be sure to check back for additional information and updates on the iconic, New York City-based comedy series here on CinemaBlend.
Jason has been writing since he was able to pick up a washable marker, with which he wrote his debut illustrated children's story, later transitioning to a short-lived comic book series and (very) amateur filmmaking before finally settling on pursuing a career in writing about movies in lieu of making them. Look for his name in just about any article related to Batman.
Your Daily Blend of Entertainment News
Thank you for signing up to CinemaBlend. You will receive a verification email shortly.
There was a problem. Please refresh the page and try again.