Ian McShane Will Teach Nick Frost To Dance In Cuban Fury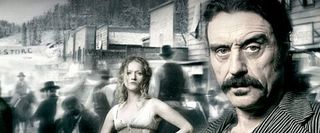 Sometimes an actor is so totally perfect in a role that everything that follows seems beneath him. To me, this has largely been the case with Ian McShane's career post-Deadwood. On that show his snarling voice, burning eyes and impressive facial hair made Al Swearengen one of the most complex and compelling characters TV has ever seen. But since Deadwood was regrettably cancelled in 2006, a variety of fantasy tales have been attempting to add grit to their narrative by casting McShane, like Snow White and the Huntsman which made the bizarre move to composite his face upon a little person so he could play the leader of a pack of dwarves. Yeesh. And yet I must admit I'm intrigued by McShane's most recently acquired role.
THR reveals McShane has signed on to Cuban Fury, a romantic comedy that will reunite him with one of his composited-dwarf brethren, Nick Frost. The Shaun of the Dead star will lead the film as a former salsa dancing prodigy who has grown to become a schlub of a man. But to win the attention/heart of his beautiful American boss (Rashida Jones), he'll return to the dancing discipline he's long left behind him.
McShane will play Frost's dancing instructor; a pairing that could prove pretty fantastic. Frost's comedic style is typically oafish, but McShane's onscreen persona is not one that gladly suffers fools, and his comedic style is to never lean into the joke. The thought of him growling dance instructions as Frost flails is already enough to get me grinning. Add to that a supporting cast that also boasts Bridesmaids Chris O'Dowd and Peep Show's Olivia Colman, and Cuban Fury seems destined to deliver plenty of laughs.
Staff writer at CinemaBlend.