Inception's Tom Hardy Replacing Sam Worthington In This Means War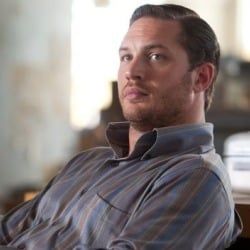 You can probably pick a dozen of your favorite things from Inception right off the top of your head-- this post is a good place to do that-- but for me there was nothing better than Tom Hardy, the British actor who stole every scene from his better-known co-stars as the tricksy and sarcastic forger Eames. Hardy has been marked for stardom ever since his role in the indie Bronson, but Inception has vaulted him into the big league of up-and-comers, and he's just signed his first deal to take advantage of it. According to Vulture, he's signed on to star opposite Chris Pine in This Means War, an action comedy about two super-spies duking it out over the same girl (Reese Witherspoon).
This particular project has been a revolving door of casting all year, with Bradley Cooper set to star back in February, then Pine and Seth Rogen on board before Rogen was replaced by Sam Worthington (???) and now by Hardy. The incredible physical disparities between all the actors suggest they weren't necessarily going for action hero types, rather whatever actors could convincingly woo Reese Witherspoon with clever pranks. For all that casting merry-go-round, it really does seem like Hardy and Pine will be the perfect match. Both created characters in recent blockbusters (Inception and Star Trek, of course) who relied as much on wit and quick-thinking as they did physical strength. To pit characters instead of actors against each other, I'd much rather see Eames and Captain Kirk fighting over a girl than Face and Jake Sully.
For as good as the cast sounds there's still the fact that McG is set to direct, though I ask you to remember how much fun the original Charlie's Angels movie was, and just assume that nothing in This Means War will be as glum or nonsensical as Terminator: Salvation. Worthington may have been smart to walk away from his former director, but I think Hardy and Pine are in great shape to take advantage of the project now that it finally looks likely to get made.
Your Daily Blend of Entertainment News
Staff Writer at CinemaBlend