Jackie Chan May Do Beverly Hills Ninja 2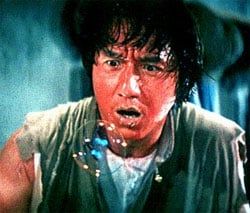 You've probably heard by now that Sony is making a sequel to Beverly Hills Ninja. Or at least we think it's Sony. Publicly, Sony denies any involvement yet everyone involved with the film says they are indeed distributing it. Regardless of who is actually making the thing, it's happening and they're currently working on casting. Specifically, we hear that they're trying to get Jackie Chan.
We've gotten this information from multiple, independent sources now, so it seems like this is the real deal. The producers of Beverly Hills Ninja 2 are pursuing Jackie Chan to play the movie's master/teacher/sensei role. They don't have him yet, and we don't even know if it's likely, but on the other hand it's not exactly as if Jackie's very picky about which projects he pursues, particularly when someone shows up at his house waving around American money. Sorry Jackie, I love you, but I've seen The Medallion.
Already confirmed as cast in the film are David Hasselhoff and High School Musical star Lucas Grabeel. Mitchell Klebanoff, who wrote the original Beverly Hills Ninja is both writing and from what we hear directing the sequel. We contacted Klebanoff's representatives, but both he and they declined to comment. From what we've heard though, they're planning a big announcement regarding the film in early October, and we should get more information on just exactly what they're up to then.
Your Daily Blend of Entertainment News