Jackie Chan As Miyagi In A Communist Karate Kid Remake?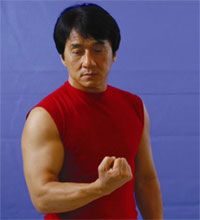 We've heard rumors that a remake of The Karate Kid was imminent for awhile now, but specifics have been scarce. Personally, I was hoping that meant the idea had simply withered by the vine, but it seems the real reason we haven't heard anything may be because the remake is being done by a communist regime.
Monkey Peaches is reporting that Han Sanping, the president of Chinese state-run movie studio China Film, has been touring America pushing projects they want to do with Hollywood studios. Among those projects is supposedly a redo of The Karate Kid, which they say may be titled Kung Fu Kid and star either Jackie Chan or Stephen Chow as Mr. Miyagi.
Here's where the rumor gets a little dicey though. They also claim that Will Smith and his son Jaden are involved in the movie, with Jaden playing the titular Kung Fu Kid and Will playing the villain. This is actually an old rumor, one which Will Smith himself debunked several weeks ago, saying that while his production company might be involved with the remake, the rumors that his son Jaden would be involved were not true.
Assuming Will was telling the truth and Monkey Peaches has that much wrong, then you've got to wonder if there's anything to their rumor at all. Let's hope not. Remakes are bad enough without having them sponsored by an over-polluting, repressive, communist government. And you thought Scientology was bad.
Your Daily Blend of Entertainment News
Thank you for signing up to CinemaBlend. You will receive a verification email shortly.
There was a problem. Please refresh the page and try again.