James Franco, Emma Roberts, Vanessa Hudgens And Selena Gomez Could Join Spring Breakers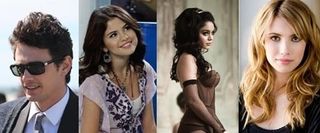 James Franco has added yet another project to his already full docket, and he may be joined by trio of young rising stars. Franco is attached to play a drug dealer in Spring Breakers, a new movie from controversial filmmaker Harmony Korine. Also in talks to join the film is a surprising group of kid-friendly young ladies you wouldn't necessarily expect to see in the credits for a movie from the guy who wrote Kids. Variety says Emma Roberts, Vanessa Hudgens, and Selena Gomez may be filling out the cast of Spring Breakers as college girls who rob a restaurant to pay for their spring break shenanigans. The script supposedly includes four of these girls as the leads, so if all three actresses sign on that still leaves on role to fill and/or speculate about.
Korine's filmography includes flicks such as Kids, directed by Larry Clark, as well as Gummo, Mister Lonely, and 2009's Trash Humpers. His movies are, depending on who you talk to, either the works of an avant-garde genius or incoherent and not worthy of the reputation he's earned in indie-film circles. Regardless of your opinion, his material will definitely be a more mature project for the girls who rose to fame on tween fare such as High School Musical, The Wizards of Waverly Place, and Nancy Drew. Roberts and Hudgens have already been making the transition to more grown-up fare for a while now with appearances in Scream 4 and Sucker Punch, but Gomez is fairly new to movies targeted at people who can drive. If they're looking to prove they've got real acting chops and can handle more mature material, hitching their wagon to Korine is probably a smart way to go about it. And starring alongside James Franco certainly couldn't hurt.
Your Daily Blend of Entertainment News
Thank you for signing up to CinemaBlend. You will receive a verification email shortly.
There was a problem. Please refresh the page and try again.