James Franco Explains Why He Didn't Get Joaquin Phoenix's Role In The Master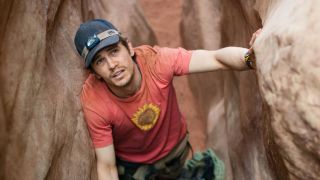 (Image credit: Disney / Fox)
James Franco is ever-present enough, and The Master is weird enough, that I might somehow be able to convince you that he really did play Freddie Quell in The Master maybe in a flashback scene or interrogation scene, in a quick flash that went unnoticed. But, in fact, Joaquin Phoenix played the part-- brilliantly, actually-- but at the same time, James Franco apparently was close to being in that role instead.
Talking at an Austin Film Festival panel discussion (via Entertainment Weekly), Franco revealed that he met with Paul Thomas Anderson to talk about the role of the mercurial, deeply troubled war veteran Freddie Quell-- but, if you listen to Franco's version of the story, he was too confident that he could nail the part:
By then the audience had burst out laughing, and Franco acknowledged "Needless to say I didn't get the part." But he did see The Master and though he's not quite humble enough to acknowledge that he wasn't up to the challenge, he did recognize that what Joaquin Phoenix brought to the role was a step or two further:
So now you're going to have the image of James Franco getting "processed" by Philip Seymour Hoffman in your brain, forever. And as much as I really do like Franco when given the right role, I can't imagine him starring in The Master, especially given how incredible a performance Phoenix wound up giving. Franco clearly wasn't willing to tear himself apart to nail a role like that-- and lucky for us, Phoenix wound up taking on the challenge instead.
Your Daily Blend of Entertainment News
Staff Writer at CinemaBlend