James Franco To Write And Direct Sal Mineo Biopic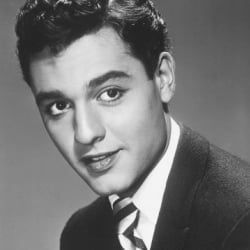 Before James Franco was a performance artist appearing on General Hospital or the bound-to-be-Oscar-nominated star of 127 Hours or even son of the Green Goblin in the Spider-Man franchise, he played James Dean in the 2001 TV movie of the same name and won a Golden Globe for his performance. Now 10 years later, Franco is turning his attention to Dean's Rebel Without A Cause co-star Sal Mineo. THR reports that he plans to write and direct a biopic about Mineo, based on the newly published biography by Michael Gregg Michaud.
Franco doesn't plan to star in the film right now, but apparently that could change, maybe depending on how the project takes shape or if he decides that starring himself will be the hook to get the film financed. Mineo, not unlike Dean, lived a starry but sadly truncated life, dying at 37 after being stabbed by a pizza deliveryman. Following his breakout in Rebel Without A Cause, which earned him a Best SUpporting Actor nomination for playing the sensitive and troubled Plato, Mineo was typecast in teen roles well into his 30s, and his ethnic looks made it tricky for him to move into leading man roles. When he died he was attempting a career comeback with a role in the play P.S. Your Cat Is Dead.
The new biography focuses on Mineo's rise and fall in Hollywood, his friendships with Rebel co-stars Dean and Natalie Wood, and also his conflicted sexuality, based in part on the experiences of his male partner Courtney Burr and former fiancee Jill Haworth. There's clearly plenty to tackle there, and with several writing MFAs behind him and half a life's worth of experience in the movie industry, Franco's got a good as background as you can hope for for his screenwriting debut. It's hard to know what to make of Franco's career ambitions right now, but if his varied projects turn out as well as what we've seen so far, we can just consider ourselves lucky to get to witness it all.
Your Daily Blend of Entertainment News
Staff Writer at CinemaBlend