Jay Baruchel To Headline Stephen King Thriller The Ten O'Clock People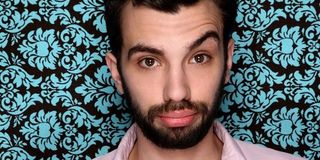 The works of Stephen King have inspired countless nightmares and over 170 adaptations in film and television, from The Shining and It to Pet Sematary and The Shawshank Redemption. Now Jay Baruchel is joining this legacy with the upcoming horror-thriller The Ten O'Clock People.
THR reports out of the European Film Market that Baruchel, who hit theaters last year in the hit apocalypse comedy This is The End, will executive produce and star in The Ten O'Clock People, which is adapted from one of King's short stories.
Found in the collection Nightmares and Dreamscapes, The Ten O'Clock People centers on Brandon Pearson (Baruchel), a smoker so desperate to kick the habit that he begins treatment using a cessation drug. But when his willpower crumbles and he picks up the cigarettes once more, the combination of smoking with the remnants of the drug trigger a chilling side effect that reveals to him the insidious reality of his world. Many of the people in charge, from police officers to high-ranking politicians aren't human at all, but inhuman monsters in disguise. Upon this realization, he joins a band of resistance members called The Ten O'Clock People.
The adapted screenplay has been penned by Tom Holland, who will also direct. Holland has a long history in horror, having helmed Child's Play and 1985's Fright Night. But he's especially interested in King's brand of terror. The Ten O'Clock People will mark his fourth time directing a King adaptation, following the 1995 mini-series The Langoliers, the freaky thriller Thinner, and half of the episodes of The Stand mini-series.
Holland has had The Ten O'Clock People in the works since the summer of 2012, when Justin Long was in talks for the role of Brandon. Shortly thereafter, Rachel Nichols of Continuum signed on to play one of the titular rebels, but this incarnation of the project ultimately fell apart. Last spring, Holland was attempting casting once more, and aimed high. With hopes of shooting the following fall, Holland was working to hook Captain America's Chris Evans. Of course that proposed start date has come and gone, and now there is no mention of the action star made in the latest THR item.
Nonetheless, The Ten O'Clock People seems to be coming together. Baruchel is not in talks, he's signed on, committed as an actor and producer. The proud Canadian entertainer will be bringing the production to his homeland, moreover his hometown of Montreal. The Ten O'Clock People is expected to roll into production in June. In the meantime, you can look for Baruchel in the RoboCop reboot, which hits theaters on February 12th, and in How to Train Your Dragon 2, coming June 13th.
Your Daily Blend of Entertainment News
Staff writer at CinemaBlend.