Jennifer Garner Is A Cheater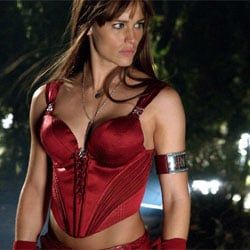 After years spent playing Agent Sydney Bristow, I'm sure Jennifer Garner knows a thing or two about going behind people's backs. The L.A. Times has it Garner (Invention of Lying) is in talks to star alongside Vince Vaughn and Kevin James in Cheaters. The Ron Howard-directed film deals with Vaughn finding out James's wife has been diddling someone. Vaughn, after confronting the wife, must decide whether to tell his friend the dirty details or save the marriage.
Winona Ryder will play James's cheating wife, while Garner's role is less defined. Garner is already set to start filming Butter next week; a movie about a small, Midwestern town involved in competitive butter carving. I don't know how she works that and Cheaters into her schedule considering filming on the Universal/ Imagine Entertainment production is said to be starting in May. Also, how, after doing a movie about carving up big slabs of butter could anyone ever do anything else? All that's really left is to do a movie about bacon.
Your Daily Blend of Entertainment News
Doug began writing for CinemaBlend back when Terminator: The Sarah Connor Chronicles actually existed. Since then he's been writing This Rotten Week, predicting RottenTomatoes scores for movies you don't even remember for the better part of a decade. He can be found re-watching The Office for the infinity time.