Jeremy Northam Completes A Late Quartet, Shooting Starts Soon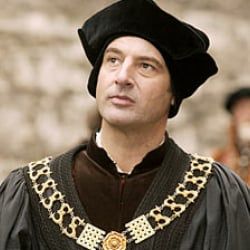 When Philip Seymour Hoffman stepped in to replace Christopher Walken in the indie drama A Late Quartet last week, he was just another strong addition to an ensemble that already included Catherine Keener and Christopher Walken. Even though the subject matter seemed a little unusual-- a renowned string quartet copes with illness and other forms of chaos after 25 years performing together-- the cast seemed like enough reason to see it alone.
Now Jeremy Northam has completed the titular quartet, and the movie is ready to start shooting at the end of this month, according to a press release. Yaron Zilberman will be directing his own script, his first feature after directing the 2004 documentary Watermarks. As for Northam, you might recognize the English actor as Sir Thomas More on The Tudors or as Ivor Novello in 2001's Gosford Park. He's not as well known as his co-stars, but has enough of a distinguished background to fit right in anyway. A Late Quartet is set for distribution by RKO Pictures, but I'll wager something elaborate that it shows up at the Toronto or Sundance film festivals first.
Staff Writer at CinemaBlend
Your Daily Blend of Entertainment News
Thank you for signing up to CinemaBlend. You will receive a verification email shortly.
There was a problem. Please refresh the page and try again.