Jodie Foster Will Rule An Alien Planet In Elysium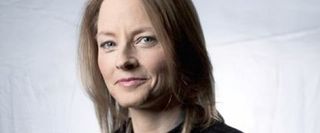 Say what you will about the enduring power of print media or the lack thereof, but print outlets are the ones capable of getting a giant piece of information about an upcoming project and simply weaving it into the texture of a larger piece that focuses on something entirely different. Take, for example, Rebecca Keegan's new profile of Jodie Foster in The LA Times, on the eve of the release of The Beaver. At the end of the thoughtful and well-written article Keegan drops some serious info: in Neill Blomkamp's Elysium, Foster will play "a head of state on an alien planet."
We don't know much at all about Elysium so far, which makes this little tidbit of news all the more interesting. Foster is part of a cast that also includes Matt Damon, District 9 star Sharlto Copley and stalwart character actor William Fichtner, and production is set to start in July in time for a March 8, 2013 release date. All we know about the plot is that it's a film set 100 years in the future and, like District 9, at least contains an allegory to a relevant social issue. The news that Foster is ruling an alien planet significantly alters what to expect-- a humanoid alien, for one thing, and also a film that explores the higher ranks of a distant alien tribe.
Foster is out doing press for The Beaver now, but given how private and press-trained she is I wouldn't count on her dropping any more details. We'll let you know if we hear anything else to put this into context.
Your Daily Blend of Entertainment News
Staff Writer at CinemaBlend