John C. Reilly Was Almost Out For Blood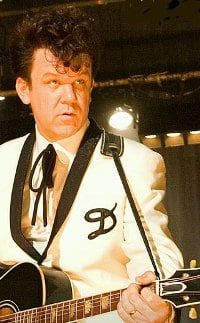 John C. Reilly is making a splash this weekend with his starring role in Walk Hard, but he was almost part of another, completely different upcoming release: Paul Thomas Anderson's There Will Be Blood. During a press conference for Walk Hard earlier this week Reilly admitted he was sorry not to be part of the production, but he actually talked Anderson out of casting him.
"Paul and I talked a lot about it," said Reilly, who calls Anderson a close friend. "He wrote me a part for the movie, and I said, 'Don't put me in there just because you think you have to, because we're friends. Put me in there if I'm the right guy to be in there.' And he thought about it, and he was like, 'You know what? You're right. You just talked yourself out of a part.'"
Reilly immediately adds, though, "I was really glad. That movie just seems so seamless. It just seems like he discovered this real place."
Reilly, who was in Anderson's Boogie Nights and Magnolia, was nominated for a Golden Globe for his role in Walk Hard; There Will Be Blood is up for four Globes as well. Reilly, who claims he never wants to win an award, says he'll be rooting hard for There Will Be Blood.
"I really hope that those guys [Anderson and Daniel Day-Lewis] get some attention, because I think that movie is a real achievement for Paul. It's such a departure from his other work. I was just staggered by it. I've seen it a couple of times, and I really have high hopes for that one."
Reilly and fellow Anderson collaborator Philip Seymour Hoffman will be competing against each other in the Best Actor in a Musical or Comedy category at the Golden Globes. Since Reilly says he's looking forward to seeing Hoffman on the red carpet, though, we have to imagine it's mostly friendly competition.
Look for more of our interview with John C. Reilly later this week, where he talks about doing scenes in his underwear and meeting the real Dewey Cox.
Your Daily Blend of Entertainment News
Staff Writer at CinemaBlend