John Green Has Gotten Death Threats Over How His Books Have Been Cast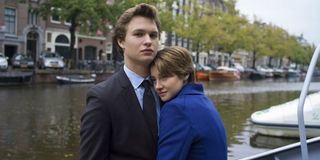 Fundamentalist fans can be the worst. They have a specific idea in mind for what their favorite characters should look like, how they should act and which actors should play them on the big screen. If their ideals aren't met, then they denounce any adaptation efforts as blasphemy. John Green knows this better than most people. The best-selling author behind such titles as The Fault In Our Stars and Paper Towns has been receiving some pretty intense responses from fans looking for information on casting for the Looking for Alaska movie, and they are apparently so eager for the inside scoop that some have resorted to death threats against Green.
Green took to Twitter to try and quell some of the anger and frustration directed at him by overzealous fans. As he said,
For those thinking that he's referring to the casting of Cara Delvigne in Paper Towns or Shailene Woodley in The Fault In Our Stars, Green clarified that it all has to do with Looking for Alaska. It was revealed in February that Paramount Pictures hired Scott Neustadter and Michael H. Weber, the screenwriters who worked on Fault, to pen the treatment for the adaptation of this other Green novel. As the author reiterated on Twitter, he does not decide the casting for these films, nor does he decide the casting director. Though, he can at least offer his opinion should he vehemently oppose a decision.
Looking for Alaska centers around Miles, a young boy who is bored of his safe life. Fascinated by famous last words, he leaves for boarding school at Culver Creek to look for what poet Francois Rabelais called "the great perhaps." There he meets Alaska Young, a girl described as "clever, funny, screwed-up and dead sexy."
Following his request for fewer death threats, Green joked that Amy Schumer should play every role in this movie in the style of Eddie Murphy in The Nutty Professor. But, once again, those decisions are not up to him.
On a more serious note, he responded to one fan's request to cast a person of color in the role of Alaska by saying he would fully support that campaign.
Looking for Alaska is arguably Green's most beloved novel, depending on who you ask. We all know how badly comic book fanatics were quick to demonize Ben Affleck as Batman and Gal Gadot as Wonder Woman, and there were even those who denounced Jennifer Lawrence coming in as Katniss in The Hunger Games. But so far, all of those instances were dilluted thanks to astounding first looks and the latter's box-office-busting franchise. If this is how the current climate is surrounding pre-Looking for Alaska casting, we're in for a bumpy ride once it actually kicks off.
Your Daily Blend of Entertainment News
Your Daily Blend of Entertainment News
Thank you for signing up to CinemaBlend. You will receive a verification email shortly.
There was a problem. Please refresh the page and try again.