Johnny Depp Could Play Houdini As A Spy In Outlandish New Biopic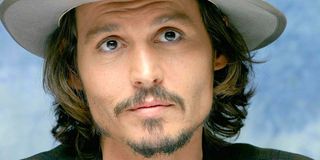 If you had to try to sum up Johnny Depp's seemingly diverse career, you could actually do a pretty fine job by pointing out he either plays oddballs or historical figures. In some rare occasions, however, he's able to play both at once, as will be the case should he sign on to Summit Entertainment's The Secret Life of Houdini: The Making of America's First Superhero.
THR reports Johnny Depp has entered into negotiations to headline the deeply unusual biopic about Harry Houdini. If Depp does commit to the project, he won't be playing Houdini as a literal superhero, but rather as a spy who was never far from the spotlight.
Based on the controversial biography penned by William Kalush and Larry Sloman, The Secret Life of Houdini: The Making of America's First Superhero will go beyond painting Houdini as master magician and iconic escape artist, but will also exhibit him as a master of espionage. It is known that Harry Houdini was a dedicated debunker of so-called spiritualists, who he felt were scam artists profiting on peoples' pain and grief. The Secret Life of Houdini: The Making of America's First Superhero is expected to explore the spy line through this aspect of his life.
Depp may not be joining this project alone. THR also notes that his Infinitum Nihil producing partner Christi Dembrowski is being courted to come on board as a producer on this Houdini biopic, which is based on a script written by Noah Oppenheimer and to be helmed by Dean Parisot (Red 2). Looping in Johnny Depp's production banner Infinitum Nihil may help Summit secure the star, but it could be a red flag for moviegoers.
To date, Infinitum Nihil has had four titles off its production slate hit theaters. The first was Martin Scorsese's critically heralded Hugo, but that was followed by the Depp vehicle The Rum Diary, a flop that received mixed reviews. Next came Dark Shadows, a $150 million mess that was reviled by critics, and made just $79 million domestic. Overseas box office brought its worldwide total to $245 million, minus the untold but costly price of the movie's glossy and widespread print and advertising campaign.
The most recent Infinitum Nihil production to hit theaters, though, was the notorious Lone Ranger, a movie so misfired that it cause me to question whether or not Depp has lost all integrity. It was a massive flop that is believed to have cost co-producer Disney $150 million. And of course, it was famously loathed by critics, who Depp memorably blamed for its failure.
In short, Infinitum Nihil is on a losing streak, as is Johnny Depp, especially adding in his most recent failure Transcendence, an unforgivably dull and nonsensical supposed thriller that cost $100 million, and has only made $22 million domestically. The film was also one of Depp's most poorly reviewed films to date. All that said, Depp has a real chance to win audience back with 2016's double-dose of much-beloved reprisals. He'll be stepping back into the shoes of two of his most popular recent portrayals in a couple years, with the Mad Hatter returning for Through The Looking Glass and Jack Sparrow coming back in Pirates of the Caribbean: Dead Men Tell No Tales. So there may be hope for him to revive his plummeting reputation yet, and in the midst of all that, he might pull off a bit of magic.
The Secret Life of Houdini: The Making of America's First Superhero is looking to roll into production this November.
Your Daily Blend of Entertainment News
Staff writer at CinemaBlend.