Joe Wright Is Out, Dean Parisot Is Up For Houdini Biopic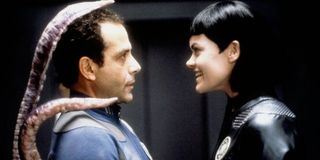 Few famous figures have a reputation as multi-faceted as magician Harry Houdini. Sure, he was best known for being a showman and stunt performer who could dazzle audiences with his extraordinary escape acts from handcuffs, straitjackets, ropes, chains, and other claustrophobic confinements. But he was also an actor (albeit a failed one), an aviator, and a passionate debunker of people claiming to be psychics and mediums. Basically, there's enough fascinating stuff in the life of Houdini to fill a string of movies (which may explain why four are in development), and yet Summit Entertainment has been struggling to get their biopic going for years.
Summit first began developing their Houdini project back in 2009, after purchasing the movie rights to the William Kalush and Larry Sloman's book The Secret Life of Houdini: The Making of America's First Superhero, which posits that in addition to all the vocations listed above, Houdini was also a spy! The proposed action-adventure movie would make the man known for breaking out of manacles a mix of Sherlock Holmes and Indiana Jones, which sounds preposterous but possibly awesome. Still, the project has had a hard time nailing down a director, but Deadline reports Summit in currently in early negotiations with Dean Parisot, helmer of Galaxy Quest and the upcoming Red 2.
While Parisot is by no means a recognizable name to mainstream moviegoers, he has shown a flair for helming action-comedies. Okay, I haven't seen Red 2 yet, but Galaxy Quest is way more fun than it has any right to be and its action scenes work well within its whimsical setting. Summit's consideration of him for the director's chair suggests this presently untitled biopic is aiming to be a lot of wild fun, perhaps in the vein of Guy Ritchie's Sherlock Holmes movies…though hopefully better than those clunky adventures. But Parisot is not signed on yet, and could still prove the latest in a growing string of directors who've become detached from the project.
Little over a year ago, Gary Ross, hot off the record-breaking success of The Hunger Games, entered into negotiations to helm this Houdini pic. However, within a few months he had dropped the project to better pursue his adaptation of the Broadway hit Peter and the Starcatchers. On the hunt once more, Summit Entertainment (a Lionsgate subsidiary) looked to acclaimed helmer Joe Wright, who has directed such outstanding adaptations as Atonement, Pride & Prejudice, and Anna Karenina. But since then, Wright has been attached to Neil Gaiman's The Ocean at the End of the Lane and has been deemed a frontrunner for the Fifty Shades of Grey, and apparently fell off Summit's radar for this feature.
There is still no mention on when Summit hopes to roll into production on their Houdini film, but the pressure is on as three others are in-development elsewhere. Sony's Houdini has been in the works since the 1990s, and has had Paul Verhoeven, Ang Lee, and Robert Zemeckis as possible directors at different points. But upon its last report, this biopic that involves a romance plot with a con-woman/spiritualist had The Hunger Games: Catching Fire's helmer Francis Lawrence attached to direct. Walden Media has Chuck co-creator Chris Fedak penning an untitled script that centers on a teen boy who discovers Houdini is his relative, spurring him in a quest to uncover the "greatest magical secret known to man." And lastly, there's Chernin Entertainment's The Houdini Box. An adaptation of Brian Selznick's young adult novel centers on an aspiring magician who crosses paths with Houdini in a life-changing exchange. But when it comes to which of these might make to production—much less theaters first—that is at present a mystery.
Staff writer at CinemaBlend.
Your Daily Blend of Entertainment News
Thank you for signing up to CinemaBlend. You will receive a verification email shortly.
There was a problem. Please refresh the page and try again.