Johnny Depp Picks Up Magician Story Mortimer Wintergreen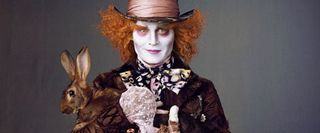 With his production company Infinitum Nihil, Johnny Depp has been tackling a string of ambitious adaptations, from Martin Scorsese's 3D spectacle Hugo, to Bruce Robinson's zany The Rum Diary, Tim Burton's outlandish Dark Shadows, and Gore Verbinski's forthcoming The Lone Ranger. With the latest of these finally wrapped, Depp is and company are moving forward on an adaptation of Myron Levoy's 1987 YA novel The Magic Hat of Mortimer Wintergreen, which focuses on the misadventures Wintergreen and a brother-sister pair of runaways have thanks to his magical hat with a mind of its own.
THR reports the family-friendly adventure picture produced by Infinitum Nihil, Wild Things Productions and Warner Bros will be penned by English screenwriter Jack Thorne. Best-known for writing several episodes of the scintillating and celebrated UK teen drama Skins, Thorne has also scripted the recently wrapped adaptation of Nick Hornby's A Long Way Down, and co-wrote the upcoming Saoirse Ronan vehicle How I Live Now.
As all of the above dabble with dark elements and drama, Thorne is a surprising choice for what seems a whimsical property. But perhaps this reflects Warner Bros' hopes that Mortimer Wintergreen will have the kind of cross-demographic appeal of such YA-adaptations as Harry Potter and The Hunger Games.
Nanny McPhee Returns' helmer Susanna White is attached to direct and Depp might also headline the film as the title character. Depp's involvement would be a boon for production, but ultimately depends on his schedule and script approval. But considering some of the projects he's produced and starred in lately, it's hard to imagine he'd reject Mortimer Wintergreen based on the script.
Staff writer at CinemaBlend.
Your Daily Blend of Entertainment News
Thank you for signing up to CinemaBlend. You will receive a verification email shortly.
There was a problem. Please refresh the page and try again.