Julia Stiles Will Play Jennifer Lawrence's Older Sister In Silver Linings Playbook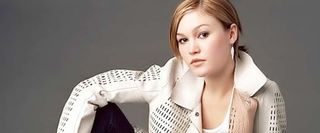 The Silver Linings Playbook, which is the movie David O. Russell finally decided to make after considering about a million options in the wake of The Fighter's success, is racking up an impressive cast now that it's actually in the works. Bradley Cooper and Jennifer Lawrence are already set for the main roles, Animal Kingdom breakout star Jacki Weaver will be in a supporting role as Cooper's mother, and now Deadline reports that Julia Stiles has signed on, joined by Chris Tucker, confirming news we reported about a month ago.
In the best bit of casting I've seen in a while, Stiles will be playing the older sister of Lawrence's character, who gets entangled in a relationship with Cooper's character after he's released from jail. I've never really though about putting Stiles and Lawrence together, but the resemblance is uncanny, and they've both got that thing going for them where they're gorgeous women who also seem smarter than everybody else in the room. They're not saying how Tucker will fit into the film, but since it's the first movie he's signed on to since Rush Hour 3 way back in 2007, I imagine it was a good enough role to get him interested.
Production on the film starts soon in Philadelphia, and much as I like The Fighter, this sounds like it will bring Russell back to the dark comedy that I think he's best at. At least I think we can all agree it's a better fit for him than the Uncharted movie that he finally wised up and abanadoned.
Staff Writer at CinemaBlend
Your Daily Blend of Entertainment News
Thank you for signing up to CinemaBlend. You will receive a verification email shortly.
There was a problem. Please refresh the page and try again.