Silver Linings Playbook: 10 Behind-The-Scenes Facts About The Jennifer Lawrence And Bradley Cooper Movie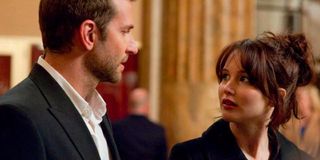 Every now and again a movie comes along masquerading as a romantic comedy but is actually a Trojan horse to bring other issues that go much deeper than boy meets girl, boy falls in love with girl, boy and girl spend the rest of their lives together. In November 2012, Silver Linings Playbook, written and directed by David O. Russell and starring Bradley Cooper and Jennifer Lawrence, became one of those movies with its mix of comedy and drama that tackled grief, mental illness, and complicated family relationships.
In partnership with Plex, where Silver Linings Playbook is streaming for free throughout the month of August, we have put together a collection of behind-the-scenes facts that go into how Matthew Quick's novel became one of the most talked about movies of the past decade, what it was like during production, and how David O. Russell pulled from his own life to tell the film's story. Here are some of those interesting stories from the making of Silver Linings Playbook.
The Weinstein Company Planned On Developing Silver Linings Playbook Before The Novel Was Even Published
Silver Linings Playbook was released ahead of the Thanksgiving holiday in 2012, a little more than four years after the release of Matthew Quick's novel of the same, but work on the film began before the book even landed in bookstores around the world in September 2008. In a New York Times article released around the time of the movie's release, it is revealed that the Weinstein Company purchased its film rights just before the book was published with Sydney Pollack and Anthony Minghella set to produce the feature.
When Anthony Minghella died in March 2008 and Sydney Pollack passed away two months later, the project was handed off to David O. Russell, who would eventually adapt Silver Linings Playbook, but not as soon as originally planned.
David O. Russell Originally Planned On Making Silver Linings Playbook Before The Fighter
Two years before Silver Linings Playbook was released and nominated for dozens of awards, including eight Oscars, David O. Russell released arguably one of his best movies with 2010's The Fighter, which earned six Oscar nods. This wasn't the original plan as Russell was initially slated to direct Jennifer Lawrence and Bradley Cooper in a Philadelphia story before directing Mark Wahlberg, Christian Bale, and Amy Adams in Lowell, Massachusetts, as Russell told Deadline in 2012. But for one reason or another, the director shifted from Silver Linings Playbook to The Fighter after writing the former's script and returned to the project following the completion of the sports drama.
David O. Russell Was Inspired By His Son, Who Has Bipolar Disorder, When Making Silver Linings Playbook
There are a lot of tough subjects tackled in Silver Linings Playbook from grief to mental illness, the latter of which is something that drew David O. Russell to the project early on as he explained in an interview with HuffPost. The director's son has a history with bipolar disorder and obsessive compulsive disorder (both play major roles in the movie), which was one of the motivations he had going in, stating:
David O. Russell's son actually has a brief cameo in Silver Linings Playbook as the kid that rings the doorbell and is chased away by Robert De Niro's character.
Mark Wahlberg And Anne Hathaway Were Initially Set To Lead Silver Linings Playbook
Bradley Cooper would go on to receive all kinds of recognition for his portrayal of Pat Solitano Jr. and Jennifer Lawrence would win an Oscar for her turn as Tiffany Maxwell in Silver Linings Playbook but the leads in the film's cast originally looked much different. During an appearance on the Howard Stern Show (via The Independent) in January 2014, Harvey Weinstein (a few years before sexual assault allegations against the mega-producer surfaced) revealed that Mark Wahlberg and Anne Hathaway were his first picks to play the couple at the center of film's story.
No reason was given for Mark Wahlberg's departure, but Harvey Weinstein claimed Anne Hathaway had "some creative differences" with David O. Russell and departed the project, allowing Jennifer Lawrence to come in and take the role. Other actresses, including Olivia Wilde and Rachel McAdams also tested for the role at various points.
Jennifer Lawrence Got The Role Of Tiffany Maxwell After Impressing David O. Russell In A Skype Interview
When David O. Russell was looking for the perfect actress to take on the role of Tiffany Maxwell, he initially saw Jennifer Lawrence as anything but, and so he had her audition via Skype instead of coming in for an in-person test. During a Q&A session at The Wrap's screening of Silver Linings Playbook in 2012, Russell admitted that the Skype audition was just a formality because he thought she was too young for the role. But when Lawrence turned on the camera at her parents' home in Kentucky, the director immediately knew she was the one.
That audition was also the start of a successful partnership between David O. Russell and Jennifer Lawrence who went on to team up again in 2013 for American Hustle and again two years later with Joy.
Jennifer Lawrence's Character Was Supposed To Be A Goth
The character of Tiffany Maxwell went through several iterations by the time production began on Silver Linings Playbook and at one point the grieving widow was supposed to be portrayed as a goth. And while much of the goth aesthetic was toned down or removed entirely (included the plaid dress), David O. Russell told The New York Times that Tiffany's dark hair, gothic cross around her neck, and the way in which she carried herself all became part of the character, creating this dark and mysterious yet highly confident person.
Bradley Cooper Said Production On Silver Linings Playbook Was 'Fluid' And A 'Wonderful Way' To Make A Movie
Production on Silver Linings Playbook only lasted a mere 33 days, and David O. Russell wanted to make the most of that time. During an interview with the Washington Post, Bradley Cooper revealed that pretty much all 12 hours of each work day were spent shooting the movie and trying new things with new dialogue that was changing all the time. Cooper described the experience as being "very fluid" before saying Russell's experimental style on set was a "wonderful way" to make a movie.
Jennifer Lawrence Didn't Understand Her Silver Linings Playbook Character And That Made Her Want To Get The Part
Throughout Silver Linings Playbook, Jennifer Lawrence's Tiffany Maxwell is one of the strongest characters in the movie and one that is confident in pretty much every situation that is thrown her way. During an interview with The Hollywood Reporter, Lawrence revealed being thrown off by the character when she initially read for the part and her inability to fully understand the character was one of her biggest motivations:
It appears Jennifer Lawrence got a handle on the character and her motivations by the time filming began considering she received more than a few awards for her performance.
David O. Russell Had To Find The Right Balance With Bradley Cooper And Jennifer Lawrence's Dance Training
Throughout Silver Linings Playbook, a lot of Tiffany and Pat's on-screen time together is spent preparing for the climatic dance scene at the end of the movie. During an interview with The Hollywood Reporter, David O. Russell said he needed to find the right balance for the performance and the actors' training in dance because they were playing amateurs and not professional dancers. Instead of coming off as experienced ballroom dancers, Russell felt they should feel like amateurs who are putting their hearts into the dance so that the audience can feel the emotion.
The Silver Linings Playbook Screenplay Brought Robert De Niro To Tears
There is a scene in Silver Linings Playbook where Pat Solitano Sr. (Robert De Niro) breaks down into tears as he tells his son he wishes he would have been there for him more as a kid. During an interview on Katie (via The Hollywood Reporter), David O. Russell told host Katie Couric that De Niro had a similar emotional moment when the two were discussing the screenplay:
Earlier in the interview, Robert De Niro explained that he knew exactly what David O. Russell was going through with his son's bipolarity which made him all the more emotional.
After reading about all of these behind-the-scenes facts from the making of Silver Linings Playbook no one would hold anything against you if you wanted to go back and watch it again, which can be done for free on Plex throughout the month of August.
Philip grew up in Louisiana (not New Orleans) before moving to St. Louis after graduating from Louisiana State University-Shreveport. When he's not writing about movies or television, Philip can be found being chased by his three kids, telling his dogs to stop yelling at the mailman, or yelling about professional wrestling to his wife. If the stars properly align, he will talk about For Love Of The Game being the best baseball movie of all time.