7 Great Movies Coming To Netflix In June 2021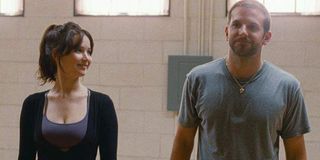 Normally, you'd expect a month full of nothing but blockbusters when looking at the movies hitting theaters and streaming services in June. While Netflix definitely has some explosive movies, with the likes of Liam Neeson heading things up, there's quite a few titles outside of that box that deserve some attention. You can still get your fill of action and excitement from the seven movies we're about to go voer, but June 2021 is mostly about personal struggles and bonding through extreme circumstances.
Before we get started, if you want to take a look at everything Netflix has to offer in June, we've got you covered. The link to the total rundown for June 2021 will be provided before we kick off the films to gush about this month. However, if you're ready to see what's in store for the next month's worth of entertainment, you can head onto our first entry without delay.
Million Dollar Baby
Clint Eastwood landed a knockout punch when Million Dollar Baby won several major trophies at the 2005 Academy Awards. But more important than that, Eastwood's directing and acting skills helped Hillary Swank and Morgan Freeman piece together a sports story that aimed straight for the heart. It's a beautiful tear jerker that audiences can still enjoy to this very day, provided you're in the mood to cry more than a little. If you're lucky enough to be just discovering Million Dollar Baby, go into it as cold as possible.
Stand By Me
Stephen King is mostly known as the "master of horror," and rightfully so thanks to his epic works in the genre. It's hard to believe it, but you could probably still surprise some people by mentioning that the coming-of-age drama that Rob Reiner's Stand By Me is based off of a short story written by King himself. Just like The Shawshank Redemption would do years later, this tender tale of the power of friendship, and standing up for yourself and your friends, still blows minds to this very day. Though it also holds up as a good film to revisit from time to time as well.
Streets of Fire
Upon its release in 1984, Streets of Fire was a movie that crashed and burned at the box office. But like any other upstart that's built a reputation as a cult classic over the years, Walter Hill's visionary musical noir has built a truly devoted fanbase. Diane Lane, Willem Dafoe and Rick Moranis are only part of the ensemble that bring this movie to life, with songs that you may have already heard telling a story of biker gangs, rebellious youth and love in the time of violence. If you haven't found Streets of Fire already, take this chance and don't look back.
Swordfish
So what if Swordfish isn't exactly the epitome of classic cinema? That doesn't mean you should shy away from watching Hugh Jackman, Halle Berry, John Travolta and Don Cheadle get caught up in some flashy cyber crime action. The cast alone should be enough to snare you into this tale of a hacker (Jackman) hired by a shady operative (Travolta) to pull off a heist too good to be true. It's as fun as you'd expect it to be and then some, with some outrageous twists and turns that make the road to the finale incredibly interesting. Oh, those carefree days where Travolta played the villain and you could impress audiences by lifting a city bus for fun in the third act.
The Big Lebowski
The Coen Brothers have a way with making some of the most intriguing stories that, honestly, don't even feel like stories. The Big Lebowski is a perfect example of a movie by the Coens where, yes, there's a story that goes from Point A to Point B, but that's not the most interesting part of the equation. Characters are king, and with a cast that includes iconic actors like Jeff Bridges, John Goodman, Steve Buscemi and Julianne Moore all tying the picture together, why wouldn't they be? Grab yourself an adult beverage, or your vice of choice, and kick back with The Dude again or for the first time. You'll be glad that you took the time to do so, especially in these trying times.
Silver Linings Playbook
Romantic comedies have a way of bringing certain expectations to the table, both in how they play out on screen and how love is supposed to work in real life. Those illusions are dangerous and lead to a lot of clichés that ultimately show just how refreshing a film like Silver Linings Playbook happens to be. By allowing Bradley Cooper and Jennifer Lawrence's characters to both be damaged loose cannons that have their own reasons for wanting to dance, we're given wildly different leads to root for throughout David O. Russell's adaptation. Even through their outbursts and worst moments, we want them to succeed, as we're behind them every step of the way.
Available 6/17/21
Killing Them Softly
Brad Pitt knows how to pick his roles, and Andrew Dominik's Killing Them Softly is yet another example of why the man is so good at what he does. Playing a hitman hired to exact revenge after a group of robbers knock over a mafia poker game, Pitt plys his trade in slick, but menacing fashion. Boasting a cast that includes Richard Jenkins, Scoot McNairy, Ben Mendelsohn and the late James Gandolfini, Killing Them Softly is a noir thriller that deserves to be seen, even almost a decade after it debuted.
Available 6/28/21
As always, unless specified, the titles you've just read about will be available on the first of the month. But be sure to check the Netflix (opens in new tab) schedule, as these titles are always subject to change and availability. Also, if you want to take a look at the best and the brightest from May 2021's additions, you can jump to that lineup included below. Until next time, stream responsibly and we'll see you back here around the same time next month!
Your Daily Blend of Entertainment News
Senior Movies Contributor
CinemaBlend's James Bond (expert). Also versed in Large Scale Aggressors, time travel, and Guillermo del Toro. He fights for The User.
Your Daily Blend of Entertainment News
Thank you for signing up to CinemaBlend. You will receive a verification email shortly.
There was a problem. Please refresh the page and try again.